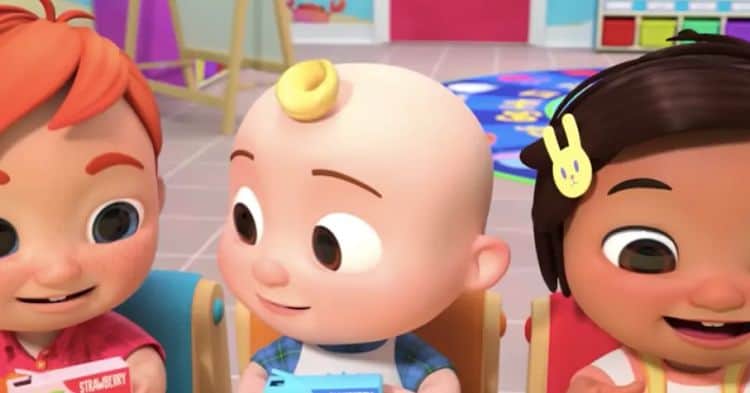 When most people see an animated movie or TV show, they almost instantly associate it with children. This is especially true if the main characters in the project are children themselves. As a result, lots of parents feel comfortable letting their small children watch animated things, and they're often left to watch these things alone. One thing we've all learned however, is that not all animated content is as innocent as it seems and the Netflix series Cocomelon might just be yet another example. Although the show seems totally harmless on the surface, rumors have started to circulate that it is actually based on a very deadly murder. Keep reading to find out more about Cocomelon.
What Is Cocomelon About?
Although Cocomelon is now available on Netflix, it isn't actually a Netflix original series. The show actually originated from a YouTube channel of the same name that currently has more than 104 million subscribers. According to the channel's description, "At CoComelon, our primary goal has always been to engage families with entertaining and educational content that makes universally-relatable preschool moments fun".
The description continues, "In addition to helping preschoolers learn letters, numbers, animal sounds, colors, and more, the videos impart prosocial life lessons, providing parents with an opportunity to teach and play with their children as they watch together."
Since being on Netflix, the series has managed to continue its strong momentum. It has officially broken the record for being the longest running show in Netflix's Top 10. Cocomelon beat out mainstays like Ozark and Avatar: The Last Airbender.
If you're not familiar with Cocomelon then you'll probably be wondering what all the fuss is about. You may be surprised to know that Cocomelon is simply a series of nursery rhyme compilations. Some of the songs touch on things that many kids deal with such as fear and nervousness. Others focus on more academic subjects.
Is Cocomelon Connected To Something Sinister?
If you're a parent, finding out you've let your kids watching something that could potentially bad isn't a good feeling. But is Cocomelon actually bad? You may be wondering how anyone could possibly think it has ties to murder. After all, what could be murderous about a bunch of cute little singing cartoons? Some believe that the characters in the show are based on members of the Watts family.
The Watts Family Murders
The story of the Watts family was recently featured in a documentary on Netflix titled American Murder: The Family Next Door. In the summer of 2018, Chris Watts brutally murdered his pregnant wife, Shanann, and their two children Celeste 'CeCe' and Bella Marie. Chis Watts was arrested, tried, convicted, and given five life sentences.
The connection between Cocomelon and the Watts family was drawn when an episode of the series featured a version of the song "The More We Get Together". The song included the names of the slain Watts children: CeCe, Bella, and Nico (the name of the Watts' unborn son). The lyrics read: "The more we get together, the happier we'll be. With J.J. and Cody and Nina and CeCe and Bella and Nico…"
People all over the internet began to speculate about a possible connection between Cocomelon and the Watts family. Some even speculated that Cocomelon was actually based on the Watts family. Since the creation of the series predates the Watts murders, there's no way that Cocomelon as a whole is based on or inspired by the Watts in anyway.
That being said, it does look like the use of the three names could be more than a coincidence. A Reddit user named Tayshaa5 claimed "That episode was dedicated to Bella, Celeste and Baby Nico (Shanann's children). The creator confirmed that already." No link was shared to confirm this, however.
In our searches, we also weren't able to find anything to prove that this. Still, it appears this theory has spread far and wide across the internet.
Is The Possible Connection Between The Watts Family And Cocomelon Creepy?
To some people, the idea of shouting out murdered children in a kids' show is a little unsettling. Others, however, aren't really bothered by it. In fact, they actually feel that included the Watts children in the song wasn't a bad thing at all. After all, what happened to CeCe, Bella, and Nico was very tragic. They never got to experience many of the things that life has to offer. Many believe their memory in a show like Cocomelon is a great way to pay homage to the lives that were taken far too soon.
Plus, in all honesty, there have been kids' shows with much creepier connections. So, most people's verdict on Cocomelon is that it's all innocent.
Tell us what's wrong with this post? How could we improve it? :)
Let us improve this post!