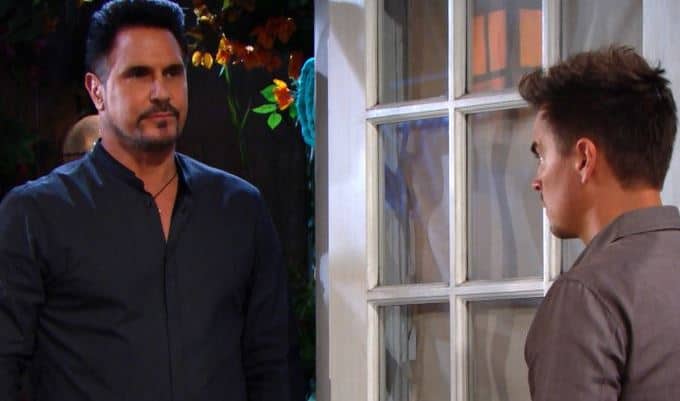 The Bold and the Beautiful fans are not all that amused by what is happening right now. This custody battle is ugly, and these are two parents who need to stop what they are doing and get it together. They are not helping this little boy. They are hurting him in a million little ways that they might not be able to describe, but they are doing it in a way that is anything but beneficial. We simply are not amused by any of it, and it's been something of a mess. The court hearing was not good at all. Bill's past was thrown in his face in court, and he can't handle that. Wyatt and Brooke both made the choice to testify for Bill, which is surprising considering that Wyatt and Katie had such a relationship recently, but he might not be all that happy with her and this might be his form of payback.
They are fretting a little before their testimonies, and we think it has a lot to do with the fact that what they have to say right now is going to change lives forever. Not just the life of a little boy and his parents, but it might change their own lives as well. They are both going against everyone they love and the way they all feel about this. They've taken sides with a man who has done them all wrong and hurt so many people, and they are not making a wise choice. But there is very little that they will gain from this. Their families are mad at them, and they are not happy with the way things are going. There is nothing that will work for them in this situation. It's bad news for all of them.
What's Happening on The Bold and the Beautiful
Watch the B&B stars describe their character with an emoji and leave a ❤️ below if you love #BoldandBeautiful! pic.twitter.com/TJDQz82vcT

— Bold & The Beautiful (@BandB_CBS) September 26, 2018
Face it. We all use emojis every single day of our lives for the fun of it, and this is one thing we cannot handle when we are given the chance to make amends. It's our goal in life to see what these stars have to say and how this all works for them. What do you think about yourself and an emoji to describe you?
What's Next on the Bold and the Beautiful
Bill fights for his son this week on #BoldandBeautiful. Don't miss it! pic.twitter.com/0Ni3Cjd9mL

— Bold & The Beautiful (@BandB_CBS) September 23, 2018
The week is rounding out with as much drama as it began with, but we are all going to be a little surprised when we find out that Steffy and Hope actually agree on something for once. They don't usually find themselves in this situation, but this is something that they are going to find themselves on the same page about, and we wonder if that has anything to do with their parents and the way that they are behaving at the moment. They aren't making wise choices or doing anything that makes them happy together, and they need to put a stop to this if they can figure it out. It's not something that takes a genius to figure out. Brooke is spending all her time with a man she was recently married to, and Ridge is fighting that all the way.
Can they agree on the fact that Brooke basically needs to get it together, or is there something else going on in their lives they need to handle? We don't know, and we are certainly not going to sit around and wait on an answer, either. We also hear that there are going to be a few closing statement items that make us cringe. This is not a pretty custody battle, and it will not end well for one of them. We don't know who or what will happen, but we do know this is not good news and it will not make much of a splash when it comes down to it. This little boy's future is being decided.
Stay tuned for more The Bold and the Beautiful and be sure to check out TVOvermind daily for the latest The Bold and the Beautiful spoilers, news, and updates.