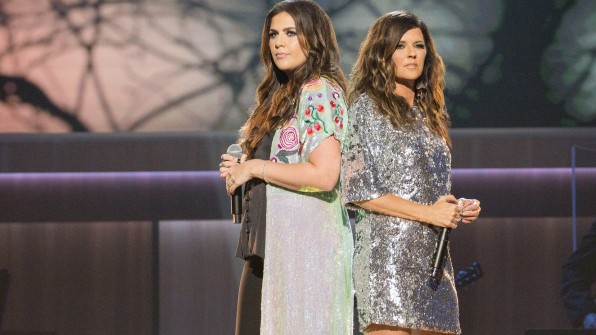 Just in case you missed the 2017 11th Annual ACM Honors on CBS, here are some of the highlights. Every year the Academy of Country Music honors musicians and songwriters for their accomplishments, not just in music but also in helping others. This year's ACM Honors show was recorded at Nashville's famous Ryman Auditorium in August and then aired in September.
11th Annual ACM Honors Presenters
The guest list included the following country stars who presented awards to their peers:
Jason Aldean
Bobby Bones
Ross Copperman
Lady Antebellum
Jimmy Webb
Little Big Town
Maren Morris
Brad Paisley
11th Annual ACM Honors Performers
The musical performances were amazing and included performances by:
Kelsea Ballerini
Alan Jackson
Chris Janson
Toby Keith
Little Big Town
Maren Morris
Brad Paisley
Thomas Rhett
Hillary Scott
Chris Stapleton
George Strait
11th Annual ACM Honors Winners
The following very talented people received ACM honors:
The Cliffie Stone Icon Award was presented to George Strait
The Gary Haber Lifting Lives Award was presented to Dolly Parton
The Gene Weed Milestone Award was presented to Kelsea Ballerini –
A Mae Boren Axton Service Award was presented to Reba McEntire
A Mae Boren Axton Service Award was presented to Bob Kingsley
A Poet's Award was presented to Toby Keith
A Poet's Award was presented to Shel Silverstein
The Tex Ritter Film Award was presented to the cast of the hit CMT TV series "Nashville"
Lori McKenna received the ACM songwriter of the year award, (making her the first woman to receive it)
Amazing Performances
If you're a country music fan, then you probably loved each and every fantastic performance on the 11th Annual ACM Honors just like I did. And, some of the collaborations between artists who, in their own right are the very best, were phenomenal. When Blake Shelton, Toby Keith, Dierks Bentley, and Keith Urban performed a medley of Glen Campbell songs in tribute to the late great singer/songwriter, it was nothing short of fabulous. On their own, they're each such amazing musical talents in the country music world but together they're four times as great.
And, that was just the country music men. Several of the best among country music women got together for a tribute to the great Reba McEntire. Yes, when Hillary Scott from Lady Antebellum teamed up with Karen Fairchild and Kimberly Schlapman from Little Big Town, the result was simply too magical to describe. Their voices melded together like nothing I've ever heard before. Reba was in tears and I think I was, too. And, Little Big Town also sang "When Someone Stops Loving You", which was written by songwriter of the year, Lori McKenna in collaboration with Hillary Lindsey and Chase McGill.
After receiving his award, Toby Keith sang a medley of a few of his best songs, including everybody's fave, "Who's Your Daddy?" And, Brad Paisley and Thomas Rhett also showed off their considerable musical talents in tribute to the honorees.
To honor the great George Strait, Chris Stapleton sang "When Did You Stop Loving Me?" and it was amazing. Then, George's longtime friend, Alan Jackson, sang two George Strait songs, "Marina Del Rey" and a rousing rendition of "The Fireman-That's My Name". And then, to top it all off and close the show, George himself sang his unforgettable classic, ""Here for a Good Time". It was the perfect ending to a perfectly wonderful show.