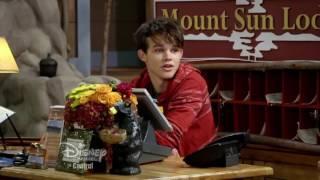 More than a year after the start of the triangle on Girl Meets World, a decision is finally made this week. Truly, the triangle has become such an integral part of the show's themes it's surprising that Cory hasn't drawn one on the chalkboard. Love triangles are all the rage in high school, but I think we can all agree it's about time this one ended. Luckily end it does, with Lucas finally making his choice between Riley and Maya. In the end his choice makes sense, as does the blossoming of a new connection and the callback to a not so fondly remembered one.
Let's just get this out of the way first. "Girl Meets Ski Lodge: Part 2" does indeed officially solve the triangle dilemma. After all of this drama, Lucas chose…Riley. There you have it, he chose the girl he liked from Day 1. So why the triangle in the first place then? The answer is actually quite convoluted, but the resolution is definitely right.
The episode starts very much the way Boy Meets World's "Heartbreak Cory" did, with Riley staying up all night with Evan much the way Cory did with Lauren; only Riley gets caught right away. First by Cory and Topanga, who talked in another corner of the room all night, then by none other than Maya and a very jealous Lucas. It's obvious that Lucas is leaning towards Riley, but that doesn't answer the big question of why this triangle got started in the first place. Based on his observations Josh has pretty good thoughts on the subject, but he remains silent for a bit.
Of course this is the moment that Evan pulls out an all too familiar book, "The Official Guide to Who Belongs With Who", which sends Cory into a spastic panic. Despite his flapping protestations (no really, there are hand motions), the kids proceed. The divide between the triangle becomes clearer, even more so since Farkle and Smackle are the perfect example that communication is the most important part of any relationship. Evan's not trying to cause tension, he's trying to help everyone get to where they need to be.
Eventually Josh reveals his hypothesis to Maya. She became more like Riley to protect her in case Lucas had the potential to hurt her. I'm not entirely sure it makes sense that this was the "great way" to protect her friend as Josh says, but at least it makes clear to Maya that she really doesn't like Lucas in that way. However, because she had this great conversation with Josh, it doesn't bode well for the distance Josh had been trying to put between him and Maya's crush. Or does it? Because why would Josh unconsciously hold Maya's hand throughout this entire conversation?
Maya gives Lucas her blessing to be with the one he wants, Riley. The timing is finally right for Riley and Lucas to be together, since they both have faith that life knows what's best for them. Maya even gets the unexpected joy of having Josh admit he likes her too. Let's remember though, Josh is still two years older than Maya, which for the adults in the room means a clear divide between adult and minor. They agree on playing the long game, waiting for the not too distant "someday".
This trip to the ski lodge had a much better ending than the last one. Don't expect Topanga to be in a hurry to go back though. Nothing could have been a stronger repellent than Evan telling Cory "My mother says hello." Oh, nature!
The resolution of the triangle made sense, but did its premise?
Girl Meets World Season 3 Episode 9 Review: "Girl Meets Ski Lodge Part 2"
Summary
The Girl Meets World triangle finally ends with a decision and some clarity.