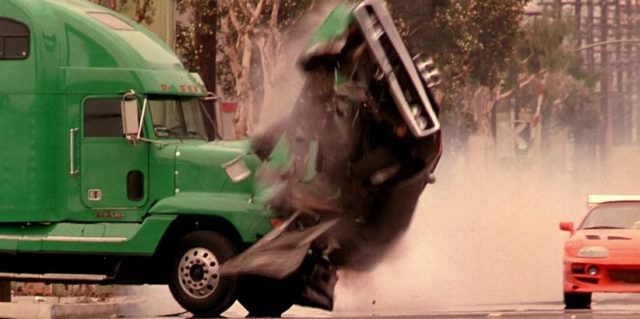 Not only did its predecessor Furious 7 rake in over $1.5 billion at the box office, the franchise hasn't shied away from upping the stakes with every movie. What started as a moderately-successful street-racing franchise (let's not talk about Tokyo Drift) has become an action-packed cash-cow. Switching genres from racing to heist movies has seen Fast & Furious go from strength-to-strength.
The addition of Dwayne Johnson hasn't hurt it, either. But the movies have stuck to two core values — family, and wrecking cars. As this graphic from Confused.com shows, The Fast and the Furious destroyed a modest 78 cars, which quickly grew to 230 cars for Furious 7. Fast & Furious 6 currently holds the crown, with 350 cars destroyed.
Combined, the seven movies have crashed, smashed, exploded, ignited, crushed and otherwise wrecked a massive 1,487 cars. That's one car destroyed every 33 seconds. It's easy to gloss over the numbers, but when you see those individual cars stacked on top of one another, it kind of puts it into perspective. So how can The Fate of the Furious top that? Well, the trailers for the movie show the destruction of 97 cars. That's more than the entire first movie. And most of that happens during a single scene.
With that kind of teaser, we can expect The Fate of the Furious to be pretty furious indeed.
Check out the graphic below: