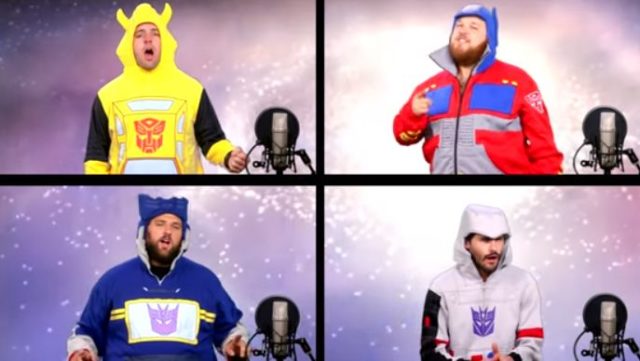 Many people were surprised to find out that the song "The Touch" that you hear in the movie Boogie Nights was actually a real song created by Stan Bush and was featured in the 80s movie Transformers: The Movie. I for one was stunned and somewhat disappointed for the mere fact that hearing Mark Wahlberg belt out his horrific vocals made the song an absolute classic. It would have been much cooler had the song been an original production of Boogie Nights. But honestly, who cares? It was one of the most memorable and funnier moments of the movie.
So I guess you could say any chance I have an excuse to post that clip I'm going to take advantage. Speaking of which, recently the popular comedy/musical group, The Warp Zone, has released its latest a capella cover, as they sang "The Touch" from Transformers: The Movie, the 1986 animated film. For this video, special guest vocalist Alex Faciane joined Michael Adams Davis, David Odom, Brian Fisher, Ryan Tellez, and Michael Schroeder.
Normally, The Warp Zone goes for full cosplay in their videos. But this time, it's more like they're wearing onesies inspired by Bumblebee, Optimus Prime, Grimlock, Soundwave, Megatron, and Starscream.
Check it out below:
Here's the REAL solid version and there's nothing better than seeing John C Reilly at minute :56 in this video. It's priceless.