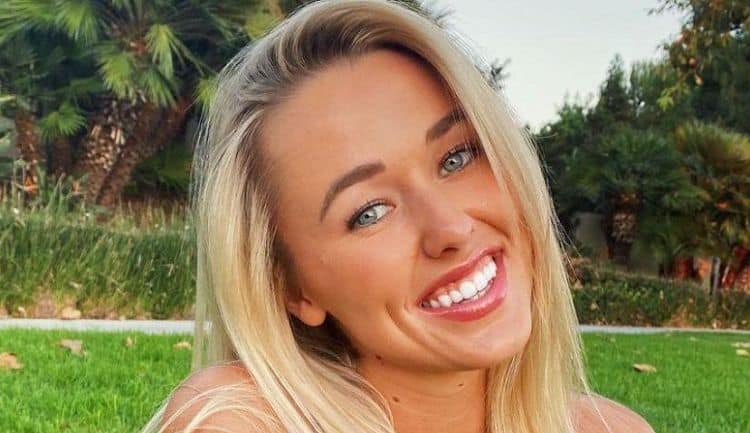 Does anyone remember when Colton Underwood was the Bachelor back at the beginning of 2019? He was looking for love long after he kind of found it, ended it, and looked for it again and again as a contestant long before? Right, him. So, anyway, there was a lovely young woman on the show who was vying for his love and affection at the time. Her name was Heather Martin, and she is someone fans really enjoyed seeing on their televisions. Where is she now? What's she up to? Let's find out more about the former woman who went on national television looking for love.
1. She's Young
She's still very young, though she's nearly two years older than she was when she was on the show. She was born on September 27, 1995. This means she just celebrated her 25th birthday in 2020. She would have been around 23 when she made the decision to look for love on national television. That's super young.
2. She's a California Girl
She's one of those girls who even looks like a California girl with her long blonde hair and her blue eyes. She was born and raised in San Diego, and she spends most of her time on the beach and having a great time outdoors. She seems to have been brought up with a good head on her shoulders, too.
3. She Loves Being Adventurous
She's a young woman who loves to try new things and be very adventurous. While some girls her age love to shop and brunch, she loves to go bungee jumping. She also loves being on any river on a raft, especially if there happen to be rapids on that river. She's also a fan of skydiving. You can count us out on all of those very adventurous activities – though I was raised by a dad who is a very active white-water canoer, so that's something I do enjoy.
4. She's Never Had a Kiss
Right, so that's a thing. When she went on the show, she made headlines and had people really stopping in their tracks to look twice when she made the announcement that in her early 20s, she'd never been kissed by a boy. Ever. She never had a kiss in her life. She just didn't feel it was right, and she was really into finding someone who was worth finally sharing her kisses with.
5. She's Exceptionally Faithful
If there is one thing we can say about this young woman, it's that she has a servant's heart and a lot of faith in God. She is very religious, and she loves her life. We love how strong her faith is and how much of her heart and her mind she puts into it. She's a wonderful example of a lovely young woman with a servant's heart who many should look up to.
6. She's Close to Her Mom
She is a young woman who clearly loves her mother. Heather Martin looks up to her mom with a lot of respect. She loves her light and her personality, her giving nature, and her ability to be anyone's 'mom' when it comes to taking care of those around her. She was clearly raised right.
7. She Could be a Triplet
She is not, but she could be. She has two sisters who could be her twins. She's very close to both of them, and it was her sister Shannon who signed her up to be part of the Bachelor when she did the show. It is really sweet to see them and their relationship on their social media pages, and we just adore it.
8. She Quit Reality Television
They say that in love you know when you know. I can attest to that fact. I knew the moment I met my husband on a blind date almost 20 years ago that I would marry him (I was only 18, too) and I was not wrong and don't regret that for a moment. However, Heather Martin proved that when you know, you know is also true in the opposite manner, too. She knew that the Bachelor was not the man for her, so she told him she was out, and she left the show. She did it in a much more elegant and graceful manner, of course.
9. Colton Underwood Was Her First Kiss
Maybe she's happy that this is how it worked out, and maybe she is not. She doesn't strike us as the regretful type, however, so we think she probably happens to be good with the way things worked out. She was very into him for a few weeks, and then she shared her first kiss with him. It wasn't long after that when she said they were not the perfect fit and she left the show. Coincidence? We don't know.
10. People Love Her Honesty
What we've come to know about this young woman is that she says what's in her heart in such an elegant manner, and she's so honest about it. She doesn't sacrifice who she is as a person, or how she feels, or what she believes. We love that about her, and we hope that we get to see more of her in the future.
Tell us what's wrong with this post? How could we improve it? :)
Let us improve this post!