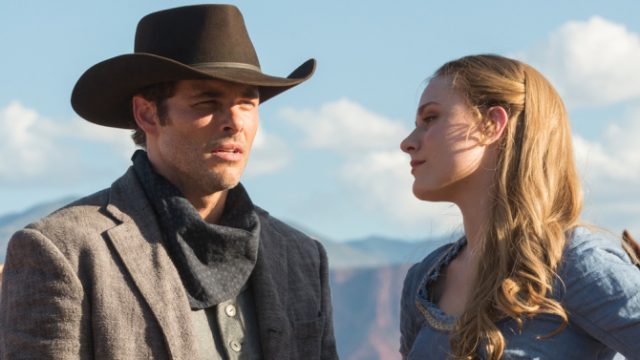 One of HBO's most ambitious upcoming series is, without a doubt, Westworld, inspired by the 1973 Michael Crichton film of the same name. The trailer, released a few weeks back, promises that the series is planning to be as epic and engrossing as HBO's Game of Thrones, and audiences have been left wondering when the highly-anticipated series would debut.
Wonder no longer, friends, as HBO announced today at their Television Critics Association panel that Westworld will be premiering on Sunday, October 9 on HBO. With the premiere, we'll be introduced to the series' stellar cast, which includes Sir Anthony Hopkins, Ed Harris, Evan Rachel Wood, James Marsden, Thandie Newton, Jeffrey Wright, Tessa Thompson, Jimmi Simpson, Luke Hemsworth, and many, many more.
Westworld is described by the network as "a dark odyssey about the dawn of artificial consciousness and the future of sin," and it tells the story of a futuristic theme park, the titular Westworld. Westworld is written and executive produced by Jonathan Nolan and Lisa Joy, and both J.J. Abrams and Bryan Burk also serve as executive producers on the series.
While you're here, check out the trailer for Westworld below!
[youtube https://www.youtube.com/watch?v=eX3u0IlBBO4]
Westworld premieres Sunday, October 9 on HBO. Are you looking forward to the series? Let us know your thoughts in the comments down below!
[Photo Credit: HBO]