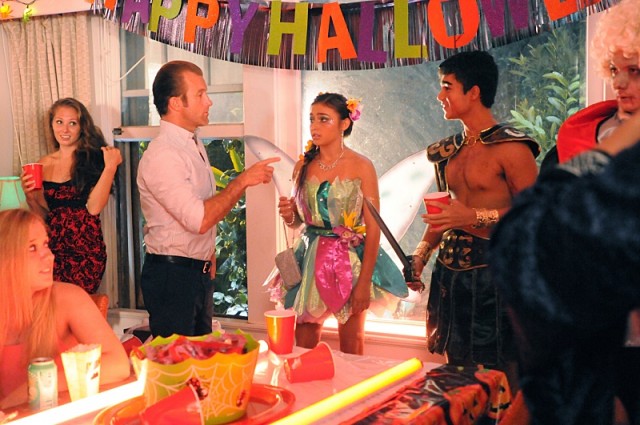 It's Halloween in paradise! Vampires, dismembered bodies, and teenage angst are all in fine, terrifying form on the annual themed episode of Hawaii Five-0.
This Halloween involves a case of dismembered body parts found in the woods, complete with larvae. Max concludes that the parts actually belong to four different women, most likely tourists who a serial killer would target as easy marks. Given the subject matter, Steve is skeptical at first that Max can handle working the case since his own birth mother was the victim of a serial killer. Max is ever the professional and assures his friends he is more than up to the task. Danny's nephew then finds an occult amulet among the victims' personal effects which leads them to another victim, which then leads them to a pattern. The killer is picking out his victims from the airport.
Steve and Grover track down the killer and Max figures out that all of the victims' body parts are being made up to recreate a woman their killer once loved. It's Halloween, so why not have a Dr. Frankenstein killer? Steve and Grover go looking for the killer and Steve is violently ambushed and must fight off the monster (pun intended). Seriously though, in what universe is it a good idea to go into the creepy basement which belongs to a serial killer on Halloween? Have we learned nothing from every horror movie ever made? In the end Max is indeed reminded of his mother, but Steve reminds him that she is always with him.
In other Halloween terror tales, Jerry pays his annual pilgrimage to the blood bank dressed as Dracula. His good deed is met with gunfire when the blood bank is held up. Liters and liters of a very rare blood type are stolen, meaning that they are probably being used for someone who can't enter a hospital without being arrested. Sorry Jerry, no vampires here. Sure enough Chin and Kono track down the blood at a veterinary clinic where a hostage situation is in full swing. What results is a particularly brutal firefight where Kono even has to stab her attacker through the heart, pun intended.
Halloween wouldn't be Halloween without family fun; if only we could find it. Danny is even more cranky about this week's crime because this Halloween Grace has decided to spend the holiday with her friends instead of her father. It hurts, but getting to spend his first Halloween trick-or-treating with his son has stemmed the pain a bit. So he's fine, that is until Rachel calls to tell him that their daughter lied and snuck off to a house party on the North Shore. The teenage years are going to be rough; Danny should definitely start getting in the habit of practicing for these particular lectures. The whole drive over Danny calms himself down, trying to convince himself that his little girl is still there, but she sure doesn't act like it when her father shows up to drag her out. Danny actually remains calm and starts off with a pretty good lecture until he and Grace get into a car accident. Their all night search for a tow truck back to the city just bonds them even more, yet Danny makes it clear that the kind of lie Grace told cannot happen again. (I'm not exactly sure how Rachel explained away the lie she told about Charlie not being Danny's son, but that's a story for another time.) They make it back just in time for Danny and Charlie to pass out candy in the hospital, where Danny asks his son if he wouldn't mind not growing up.
Of all of the Halloween-themed Hawaii Five-0 episodes, this was by far the best one.
[Photo credit: Sonja Flemming/CBS]