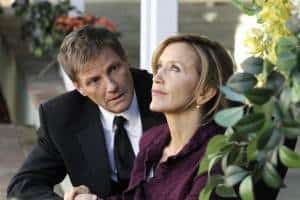 HA!!!! HA!!!! HA!!!!!!! I SOOOOOOO CALLED IT!!!! Your boy is BAD!!!!!!! Desperate Housewives returned in top form by pushing the storylines into overdrive this week, bringing the two top mysteries closer to what could be an explosive finish!!!! So let's recap!!!
The Set Up
Another girl has went missing in Fairview, and like Mary Alice laments, no one really has paid attention… Except the killer himself.
Susan and Mike
Mike's tested "manhood", a storyline that should have been nipped in the bud earlier, rears it's ugly head again this week and it's getting worse since Mike still doesn't get the whole partnership aspect of marriage.
After Susan sees someone trying to repossess Mike's symbolic truck (and making a spectacle about it), Mike reveals that he is behind on the payments on his truck. Susan immediately offers to help, but Mike declines to touch his wife's money and wants to work things out on his own. He also has an issue with everyone knowing his business, which isn't really Susan's fault since everyone was witness to the repossession of his truck.
MJ, being a naive kid, tries to clog up the sink in their house so Mike can get work, which in turn gives Susan an idea. She asks Gaby, Lynette, and Bree permission to clog up their pipes with dirt to get Mike some jobs and pays them off. Later, Mike discovers this ruse after finding Susan's earring in Gaby's drain and he is not amused nor understanding of Susan's actions.
Later, Mike reveals to an initially unknown person the extent of his financial troubles and how he doesn't want to be a failure in Susan's eyes. The person turns out to be Carlos, who offers to help Mike out by writing a check. So, Mike, you can take money from a friend, which you still will have to repay, but you can't take money from your wife, whom you don't have to repay? You are associating your contractions with the wrong people, bro.
Gaby, Bob, and Lee
After overhearing Bob and Lee arguing, Gaby throws herself into the center of their drama: their latest egg donor has flaked and Lee can't take the heartache of not getting to raise a kid any longer. Enter Gaby, who decides that she will donate her eggs to the cause and by the time she utters her contribution, I already call a bad ending to this story line.
Gaby tells Carlos of her plans, but of course, he blows a gasket. Gaby tells him that she will do what she want with her eggs, since they are hers, and she wants to give them to Lee and Bob. Again, partnership seems to have taken a back road this week on Wisteria Lane.
Gaby celebrates with Lee and Bob, but a series of unfortunate events prevents anyone leaving with a happy face. First, Lee doesn't want Gaby to drink any alcoholic beverages; secondly, Gaby interjects what Lee and Bob can and can't do with the baby; and three, it finally dons on Gaby that she won't be playing "Mommy" with the baby, after all, and she has a revelation.
After asking Carlos to break the news to Lee and Bob for her, Gaby makes her way to their house after the smoke clears. Turns out that after Carlos dropped that nasty bombshell of Gaby rescinding her offer, Bob and Lee got into it again, but this time Lee left for good. Oh no!!!! Gaby feels like crap, but Bob says that it wasn't her fault, but we know he is possibly ready to rip her throat out. I knew this wouldn't be a good ending, but damn…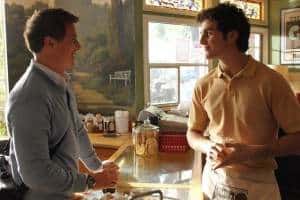 Patrick Writes A Book… Sort of.
Patrick Logan (special guest star John Barrowman) finds a way into Danny's life without being too suspicious, and that involves Danny's job at The Coffee Cup. Patrick poses as an aspiring author, who is writing a book about a tragic love story and wants Danny's opinion on how it should end. After Patrick practically lays down his and Angie's past through subtext, Danny comes up with the perfect ending: kill the girl who spurned the main character. Wrong answer, dude.
Later one night, Angie returns home to a darkened house and hears noises. She finds a weapon, but the phone rings and its Nic, who Angie begs to come home quick. Outside her window, Patrick watches intently.
Patrick returns to The Coffee Cup later to tell Danny that he has decided to change his "story" ending by taking something from the woman that would devastate her. Danny, naive, correctly guesses the kid is the woman's heart, which Patrick confirms. Am I the only one who thinks that the apple didn't fall far from the Logan family tree, because Danny's answers were of the tip of the tongue variety.
The "Son" Wars
Sam Allen shows his true colors this week and if Bree doesn't get the hint now, then I will gladly have a "Come to Jesus" talk with her myself.
After Andrew drops the bombshell that Sam doesn't have a MBA degree, which Andrew did extensive research to find out, Sam defuses the bomb by explaining that he is a few classes short due to taking care of his ill mother, who later died. Andrew looks stupid as Bree berates him. Later, Sam approaches Bree about something that might explain Andrew's recent fiasco. Seem that Andrew has been stealing from the company via charging customers for items they didn't receive. Andrew confesses, but thinks that Sam dug it up to use against him. Andrew is right, of course, but don't give him material to work with, dude!!!! Bree fires Andrew for defying her and asks for his keys to the kitchen. Sam watches, relishing in Andrew's misery.
Later as Sam and Bree try out a recipe for a new southern cookbook Bree is about to write, Sam is shocked to find out that Bree is thinking about reinstating Andrew with the company after Andrew chills out. I don't think Sam likes this one bit, but is he that stupid to try anything? Keep reading…
During Bree's dinner for the cookbook, Bree finds out from her editor/financier that people are tired of southern cookbooks, which means he's sticking his neck out for this one. So, to add more weight on Bree's shoulders, the inevitable happens and Sam discovers there is something wrong with the dishes. The wrong ingredient was used and the plates are going out to the crowd as Bree realizes this. She can't fathom how such a faux pas came to be, but Sam helps her by suggesting that Andrew sabotaged her since he hasn't returned the keys to the kitchen. Bree doesn't have to think about this (unfortunately), because she has to salvage her career. Her 'Desperate' Moment? Set off the fire extinguishers before anyone tastes the food.
Later at home, Bree laments how Andrew could be so petty, but Orson thankfully explains to Bree the logistics of how Andrew isn't the culprit and how Sam might have something up his sleeve. Thank you, Orson, for being useful and using your brain again. Now, Bree, thank Orson and use yours.
Lynette Comes Through, But The Strangler Strikes Again…
While witnessing Irina shop for her wedding dress, Lynette bonds with the shop owner, also Russian, over the whining that is Irina, who only speaks to the shop owner in their native language. When Irina goes to change her dress, her phone rings and she tells Lynette to answer it. The caller is also Russian and sounds pissed off. Irina talks to the caller in Russian, but in a condescending tone. Lynette asks who was it, but Irina is not about to divulge that information to her. After Irina returns to the dressing room, the shopkeeper is more than happy to reveal what Irina said. Who says you can't find good help these days?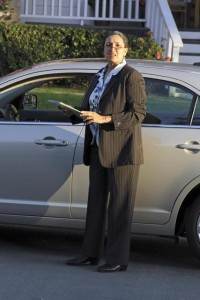 Lynette later goes to Immigration services, but can't get any help from the worker she is talking to due to lack of evidence. Lynette also deduces that the worker isn't getting her situation, since he is single and childless. Lynette does find a woman in immigration who is willing to help, because, she too, has an unwanted daughter-in-law. All Lynette needs is Irina's passport number and she will be in business.
While trying to get the passport number, Irina and Preston come back. As Lynette hides behind the closet door, the couple proceeds to engage in sex. So, Lynette, in her "Desperate" Moment this week, takes a baseball and throws it through the window to divert attention as she sneaks out the room.
On the day of the wedding, everyone runs around getting ready, except Lynette, who sulks in the backyard. Tom eventually finds her and listens as she vents her frustration about the while situation to him, telling Tom that she can't attend the wedding, because she doesn't believe in it. As soon as Lynette is about to give up, the immigration worker drives up with a HUGE folder. Uh-oh… I smell some ammunition!!!!
Lynette confronts Irina about her two previous marriages, prostitution background, and her thieving ways. Irina lies at first, but as the evidence stacks against her, she comes clean. Lynette listens as Irina berates her and gloats about how no matter if Lynette does tell Preston, he will still believe Irina. Not so fast, you gold-digger. Lynette and Irina turn to see Preston staring at his 'blushing' bride. He asks his mom for privacy with Irina. She gives it to him. Boy, to be a fly on THAT wall!!!
Later, Lynette apologizes to Preston for what happened as he sulks in his room. She tells him that she will rather have him hate her than sit and watch him ruin his life. The scene plays out beautifully as Lynette tells her son that she will be there waiting for him when he's finished hating her, and to hurry up, because she is missing him already. All together now: "AAAAWWWWWWWW!!!!"
Outside, Irina leaves the Scavo house, but she is stopped by a car that we have seen before. In it is none other than Eddie, aka the FAIRVIEW STRANGLER!!!!!!!! He picks up Irina and after she insults him he pulls over, kills her, and buries the body. The next morning he returns to the Scavo house as if nothing happened, while Mary Alice rightfully closes the show saying that "we don't pay attention to evil, because we don't think it will ever come to our house. But it does… and sometimes we let it in…"
Amen, sister!
The Wisteria Lane Ledger
– I KNEW IT!!!! I smelled creepy rat on Eddie ever since the episode titled "The Coffee Cup" aired. Again, read my article all about my summations here. But who will figure out who the kid is? Will it be Lynette? And if so, I pray that nothing happens to the baby…
– Patrick Logan might be getting closer and I bet a lot of people feel as if his introduction has been watered down, but I bet he will turn up the amp very soon.
– I wonder if this is the end of Lee and Bob? First, Kobin and now Lob? Gay DH fans might not be happy about the recent turn of events for their representation on the show… But it was nice to see Gaby doing something seriously unselfish this week, despite how it ended. I think Gaby herself might want another baby, but not the crap that comes with having one. I could be way off base on that one though….
– Mike needs to talk with my dad about cooperation in a marriage and how without it, you can't possibly manage to survive 'happily ever after'.
– Sam Allen better reveal his true colors soon and Bree better be ready to kick his ass to the curb when he does.
See you guys next Sunday!!!