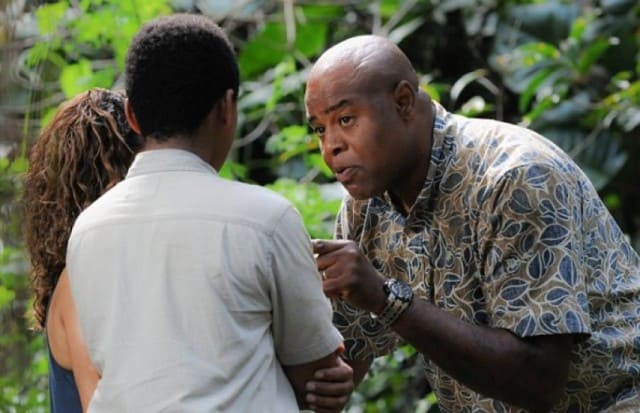 Since Lou Grover first came to Hawaii two years ago, he has become Ohana to Five-0. To quote Lilo & Stitch "Ohana means family, and family means nobody gets left behind". This is why when a criminal from Grover's past comes after his family on the newest episode of Hawaii Five-0, the team races to help their friend before it's too late.
The team is a man down with Danny away supervising Grace's cheerleading competition, but they don't expect too much trouble in the meantime (famous last words). After going to breakfast together Steve sees Grover in a heated argument with a stranger, before Grover disappears altogether. Worried about his friend, Steve goes to Grover's house to find it abandoned. The only clues they have to go on are dust marks where "go-bags" were and all of the family's cell phones destroyed. Through a conversation with the FBI the team learns that Grover was an undercover informant right out of the police academy. His assignment was to take down a criminal organization called the Philly Black Mafia. The gang was headed up by a man named Aaron Barnes Jr., who was recently released from prison.
The Grovers are on the run for their lives with the help of their FBI handler, Agent Frank Zegar. The usual fun-loving cop we have come to know Grover as is instead more stoic and stressed than ever. Grover's wife Renee and Agent Zegar do their best to keep the kids calm. The kids know they have no choice but to run, but when you're a kid being forced to uproot your entire life for the second time in two years, you're allowed to be unhappy.
The FBI asks Five-0 to stay out of it, but when their Ohana is threatened they don't just sit on their hands. The team figures out that Clay Maxwell, Grover's best friend until he killed his wife, was the one to out Grover's location to Barnes's attorney. This is payback for Grover putting him in prison. Five-0 has limited time to help Grover since Barnes is already on his way to the island. Grover and his family travel by boat to Molokai'i where they are to be met by FBI Agents from the Honolulu Office. There's just one problem, the FBI agents don't have a tan, which explains why Five-0 finds the real FBI agents dead in a landfill. Grover realizes not a moment too soon that Zegar betrayed him. They end up in a high-speed chase through the Molokai'i jungle before having to travel on foot. Knowing that they can't outrun Zegar and his men, Grover tearfully splits from his family to head off the criminals in another direction.
Steve and Kono fly to Molokai'i to extract Grover themselves, only to be met by a shootout from Barnes and his men. They dispatch them all while Grover is in the middle of his own gun battle. Grover kills one of the gunmen while Renee is forced to kill another to protect her kids. Renee looked sickened by the choice she had to make, but you do what you have to do to protect your babies. Grover has the opportunity to kill Zegar for his betrayal, but like the good man we know him to be, he instead leaves Zegar alive to face his punishment. Steve and Kono show up after everything is over, but have the honor of telling the Grovers they don't ever need to run again.
Chi McBride has had some fantastic material to work with this season. Was this his best work yet?
Hawaii Five-0 Season 6 Episode 19 Review: "Malama ka Po'e (Care for One's People)"
Summary
Chi McBride shines in the newest episode of Hawaii Five-0, which finds Lou Grover and his family on the run for their lives.