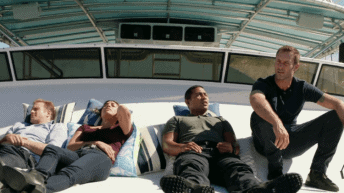 Hawaii Five-0 has been trying to find its legs again after the departure of two of its series stars, and for the first time, it seems to have regained some of the magic. New members Tani and Junior both tag along on this mission, and both kind of wish they hadn't. Both of their training has put them in a bunch of different scenarios, but there's no real way to practice being exposed to a biological weapon. Ironically, Steve and Danny are the exceptions. Danny was exposed to a biological weapon way back in Season 1, and Steve has been fighting radiation poisoning for the past few months. Not that this needs to be said, but I'll say it anyways. It probably isn't good for their health that they keep being exposed to dangerous pathogens. In the meantime, let's recap how Five-0 is exposed to said weapon this time around.
Five-0 investigates when a woman named Monique Sims is found clinging to life in a single emergency raft in the middle of the Pacific. When the ship she was on doesn't respond, Five-0 knows something is wrong. Once they get on the boat, it's clear everyone died of some kind of biological weapon. They have no choice but to stay put, or risk exposing others. It's terrible, but it doesn't make sense. Why attack a bunch of rich people to a biological weapon of all things when there are much easier ways of killing them? McGarrett is right-it was a test for a much larger plan. The virus is indeed a fast-acting hybrid of more than one contagious pathogen. Adam is brought in because he once knew Monique from his more luxurious party days. She explains that her boss's friend Marco came onto the ship, held everyone hostage, and she got the hell out of there before she was exposed to the virus. Except that's not quite what happened. "Marco" is actually Andreas Koslov, a man who once run the Ukranian Chemical Weapons program.
Back on the boat, Steve, Danny, Tani and Junior collect evidence of everything that took place on the boat. Once they find the dead Koslov, they figure out that when he died, the virus was accidentally set loose. This is what proves Monique is a Liar, Liar, Pants on Fire. After that, Steve and company can only wait; either wait to die or wait for a miracle. Exposed to a biological weapon that is slowly killing them, Danny and Steve still find something to argue about. At least the argument is new. I can't recall them ever having an argument about champagne and restaurant waiting areas. This is the point where Tani and Junior wonder what the hell they've gotten themselves into, even though, they'd probably make the same choices all over again.
Adam may no longer be apart of the high society world, but he still has some connections. He is able to find out the name of Monique's handler to set her up, but the ridiculous girl gets herself shot in the process of fleeing. Adam tries the soft approach, but Grover will have none of that. They don't have time to play nice, not with Five-0's lives on the line. Getting Monique to talk is the easy part. Dropping the antidote down to McGarrett in the middle of a superstorm is damn near impossible. With the strong winds and current, the case drops into open water. McGarrett dives in after it, and Junior proves himself on his first major mission by rescuing both McGarrett and antidote. He may have just been shadowing on this mission, but I'd say after this case, he'll be a full-fledged member of Five-0.
However, this is not the end of this tale. Everyone is saved by the antidote and promptly put into quarantine back on dry land. They're all in one place, disarmed and in recovery. Which means they are sitting ducks for whoever it is who comes to call in next week's episode. Danny survived two biological weapons, but can he survive the man who comes for them with a loaded gun? Tune in next week for Hawaii Five-0's fall finale to find out.
Hawaii Five-0 Season 8 Episode 9 Review: "Make Me Kai (Death at Sea)"
Summary
Hawaii Five-0 works quickly to find an antidote when Steve, Danny, Tani and Junior are exposed to a biological weapon.