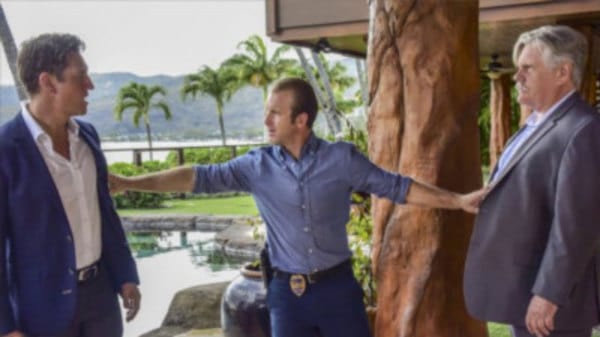 This week's episode of Hawaii Five-0 is not a great testament to fidelity, unless you're talking about Steve and Danny. Danny's other relationships have reason to be in question. While fans might not have too much of an opinion on Danny's love life so long as he is happy, and always has his best friend at his side, stepping into a situation with the potential for more heartache isn't desired either. A lack of fidelity is also at the heart of this week's case, which comes to Five-0's attention courtesy of an old friend of John McGarrett's.
Steve receives a visit from Harry, a private investigator and an old poker buddy of his dad's. Harry needs help tracking his client's wife Seline, who was kidnapped right under Harry's thumb. The only indication that anything was out of the ordinary in Seline's life was a lunch that she had with her friend Natasha Baron, who she had a falling out with. Finding out your husband is having an affair with your best friend tends to have that effect. Natasha is then grabbed because Seline's ridiculously stupid husband refused to pay the ransom for his wife. In a frantic fury, Seline mentioned that her husband might care more about his mistress, which is why both women were grabbed.
Seline is released, albeit strapped to a bomb, but she is released. The kidnappers realize Natasha is of greater value, so they trade her for $4 million. It goes well, in spite of one kidnapper casualty. It would, since Seline orchestrated the whole thing to get revenge on her husband. Why she would want to when her accomplice was her own boyfriend is beyond me. Luckily Harry figures this out before Seline can make off with the money.
It's not a great week for love, unless you're talking specifically about Steve and Danny's friendship. Harry gets to witness Danny and Steve's unique bond up-close while Danny is going through a personal quandry. After years of marital problems and an affair that therapy couldn't help, Stan and Rachel decide to get a divorce. Surprisingly, Danny feels saddened by this. Stan has been a second father to his kids for basically their whole lives. He stuck by Rachel even after she admitted their son was actually her son with Danny, which says a lot about Stan's capacity for forgiveness. Danny barely forgave her for that lie. Yet the one thing Stan can't get past his strong belief that Rachel is still in love with Danny. That may very well be the case.
What is less clear is whether or not Danny would consider being with Rachel again. Danny is happy with Melissa, but it's clear he has never given his whole heart to anyone the way he did with Rachel. She then proceeded to break it twice. Nevertheless, they share children together and that's a lifelong bond. Danny is going to be there for Rachel as they help the kids through this change. Whether or not it turns into something more, time will tell.
There's really only one pair that is meant to be, and that is Danny and Steve. As Danny oh so affectionately describes his relationship with Steve, "He wants me to die on the job with him instead of retiring."
Tell us what's wrong with this post? How could we improve it? :)
Let us improve this post!