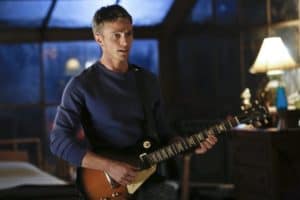 Wade has decided to enter his band Mind Face into the Fairhope Battle of the Bands, set to take place at Tricky Rick's. With the money he'd get from winning, he'd be one step closer to opening up his own bar and achieving a dream he has spent much time in planning. Only he might not be able to win with Meatball as the singer; the band focuses heavily on original material rather than cover songs and Meatball's "Growl Country" aesthetic isn't the most pleasing to the ear, particularly George's and Zoe's. The two feel that Wade won't be able to win with Meatball and conspire to get George into the band; Wade, however, decides to stick with Meatball after George pleads to be in the band (for the artistic outlet it'd provide) and gets upset at Dr. Hart for not being supportive of his band.
It's not until Zoe suggests that Wade reunite the old band, including Lily Anne, that he begins feeling less irritated and more hurt. If she would rather have him be around a woman who made a pass at him recently rather than sticking with Meatball, she must not like the band whatsoever. However, at the next practice, Wade calls for them to make adjustments to their songs, which results in Meatball panicking about "selling out" and quitting the band, forcing Wade to work with George. The two have a good working chemistry and end up sounding great together at a practice gig; the night of the Battle, Zoe again atones for not supporting him enough and not believing in him, even bringing by a neon sign that says "Wade's Place" as a peace-offering.
The gift puts pressure on Wade and makes him understand that the gig has real stakes. He then retreats into a drunken stupor for fear of losing his dream, kicking George out of the band when he tries to help him out. Mind Face, complete with Meatball back on lead vocals, loses the Battle and Wade goes to sulk about how people shouldn't believe in him. He then leaves the bar with a pretty brunette that had been flirting with him all night. Zoe makes it back after having to attend to a medical emergency, unaware of where he's at.
You're My Best Friend
Lemon is officially alone for the weekend after Brick goes off with Shelby, Magnolia heads off on a choir field trip, and Walt attends a bachelor party thrown by a college buddy. It's not a place she likes to be and before she has to confront the emotions/reasoning behind her loneliness, Magnolia's back home; her choir director got tired of misbehavior on the way to Jackson and literally turned the bus around and brought every back. Lemon decides to make this into a sister weekend, with the two going dress shopping, getting their hair done (with purple streaks!), and keeping each other company…until Walt arrives at the door. The bachelor party turned out to be a tame daytime thing and since his buddy is no longer the life of the party, he wanted to come hang out with Lemon, who invites him out for a walk and dinner afterward, disappointing Magnolia.
At dinner, Lemon gets distracted by AnnaBeth and Cricket being there and overcompensates for her loneliness by smothering Walt with talk about their future. Another movie date is one thing, but once she begins talking about a cruise next Christmas, he got scared and broke up with her. She goes home dejected and makes up with Magnolia for ditching her, though Lemon confirms that they can't be best friends. It would be nice to be able to be that close, but she can't use Magnolia as a substitute for AnnaBeth, not when she has to continue to parent her.
Love & Marriage
Due to an app on Cricket's phone, she and AnnaBeth are ready to follow Lemon everywhere she goes and "accidentally" run into her; in doing this, they hope to show Lemon what she's missing and get AnnaBeth back in her good graces. However, Lemon is determined not to give either of them the time of day, rejecting their offer to get manis and pedis and ignoring Cricket's request for advice on remodeling her kitchen. On the fourth time of their "accidental" meeting, Lemon confronts the two about the app they're using and tells AnnaBeth that she wants to dissolve their business together.
Meanwhile, Lavon has been performing by-proxy marriages for BlueBellians currently serving overseas, using Tom and Wanda as stand-ins for each couple. The mood, combined with their already strong relationship, has made Tom want to propose to her and seeks Lavon's advice on how to go about doing that; he wants something with Ewoks and Avatar, but Lavon disapproves of that and comes up with a horse-drawn carriage ride around town as an alternate plan. However, he overhears Wanda talking about a proposal being a "disaster" and tells Tom that their plan has been pushed back. Tom had been getting to know the horses in a bid to get over his extreme fear of them, but once he gets wind of Wanda's thoughts, he gets caught on the carriage and dragged through town, suffering mild whiplash as a result.
While at the doctor's office, Shula comes in to get Tom – there's an emergency in the town square and as he's a first responder, he gets called into duty. Only there is no emergency. It turns out to be an undead flash mob set to his favorite song ("Islands in the Stream") and featuring Wanda popping out of a coffin to sing part of the song and propose to him. Her talk about a proposal being a disaster was about the costumes for her proposal not being ready in time, not that she didn't want to marry Tom. The two agree to marry and continue the song, ultimately reaffirming Lavon's faith in matters of the heart. He goes to AnnaBeth's and tells her that he will wait for her.
Additional thoughts and observations:
-"Like a car with four legs. And beady eyes that ravage your soul."
-"But I am going to do battle with my band."
-"Frank was right. The zombie apocalypse is upon us."
-If only this episode was (rightfully) called "Nightmare Demon Lullaby"…
-Lemon is far and away the best written character on the show right now and I wouldn't be opposed to them focusing on her more. Imagine saying that this time last season.
-The "Tansy doesn't want to date a musician" argument made sense, but it ended up being a little too silly/non-consequential. I did love that he stood up for himself and didn't let her turn into season one Lemon, though.
-Meatball apparently sounds like "a werewolf in a garbage disposal."
-George's attempt to explain "Mind Face" might be my favorite thing about this episode. After the beautiful proposal, of course, which you can rewatch 1000 times here not like I have or anything.
-George's leather jacket was really nice and I would legit buy that for myself.
-Wade may have a lot of positive qualities, but his lack of emotional maturity can be a bit tiring. You can't expect to be in a committed relationship and run away as much as he does.
-Next week on Hart of Dixie: Zoe agrees to be Wanda's maid of honor, Lemon faces the memory of being left at the altar, and Lavon enlists George in a legal matter.
Tell us what's wrong with this post? How could we improve it? :)
Let us improve this post!