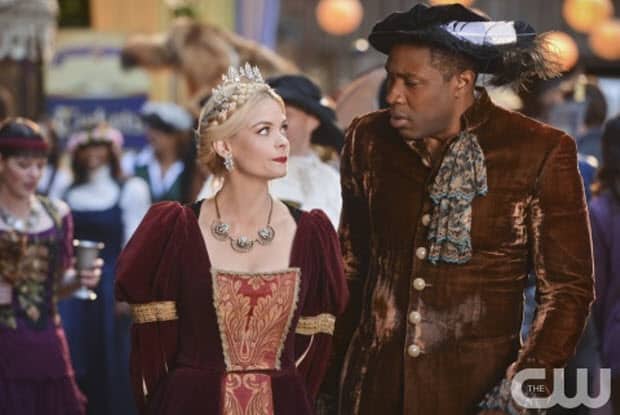 Hart of Dixie is mostly known for its distinctly quirky town of Bluebell where we've seen all sorts of themed festivities before, so it's about time they hosted a Renaissance Faire. Huzzah!
Still reeling from his breakup, Lavon found the perfect coping mechanism: planning town events. He's shocked that the townspeople aren't embracing his latest idea of a Renaissance Faire. George said that maybe they're all exhausted with all the other fests he's been throwing, including a sandwich fest and a pickle fest. Shame we never got to see those happen!
At the same time, everyone does seem interested in Lemon's current predicament of being torn between two lovers, Enrique or Carter. This reminded me a lot of Gilmore Girls when Lorelai and Luke broke up and everyone showed their support for either of the parties. Only now the people of Bluebell are sporting Team Carter or Team Enrique t-shirts. Lavon seizes this opportunity to draw crowds to his faire by roping the men into dueling for "Queen" Lemon's hand and heart.
Things don't go exactly as planned when Meatball intervenes and talks both of Lemon's suitors out of showing up for the duel so that he can enter the ring unopposed and "win" Lemon over. Poor Lemon is embarrassed to see Meatball, but it was sweet of Lavon to quickly suit up and enter the ring to win her hand for the night. Lemon and Lavon had a history before the series even began when she cheated on George with Lavon, but now there's really nothing but a genuine friendship between them. Their conversation that followed about Lemon never being able to choose between Carter and Enrique was very interesting. She said she knew that neither of them was the "the one" for her and she wishes she could blend them up into one perfect boyfriend smoothie. That got Lavon glancing in Annabeth's direction, and I bet he's starting to realize that he's already met his perfect "smoothie."
Annabeth hasn't adjusted to life without Lavon either, and she's drinking her sorrows away when a man in a knight suit introduces himself as her knight in shining armor. A while ago I heard that Barry Watson (7th Heaven) would be joining as a recurring character, and I'd bet anything that is him in the suit. He'll certainly charm Annabeth, but I am still pulling for a Lavon and Annabeth reunion and engagement by the end of the season!
George Tucker was back in action in the court room after Chicken Truitt decided to sue Zoe and Joel for an injury he suffered when renovating their house. Chicken Truitt and his brothers were only doing this because they overheard Joel share his great news with Zoe that his book sold to Warner Brothers. Even George can see right through them, that they're just exploiting Joel because they know he's got some money coming his way soon.
Needless to say, George got the case thrown out almost immediately in front of the judge but Zoe and Joel are still facing some changes in the future regarding this book deal. It requires Joel to move to LA for 6 months to work on the script, so we'll get to see them try out this long distance relationship. I wouldn't be surprised if by some miracle the movie ends up filming in Bluebell. Just imagine Lavon's delight at having Hollywood come to his small town!
Last but not least, this weekend just so happened to also be Wade and Vivian's 3 month anniversary. Wade had big plans for Vivian, including bribing Rose to babysit the notorious Harley for her. A baby goat that Harley first saved from the petting farm at the Renaissance Faire ended up interrupting their anniversary dinner, but it was well worth it to see Wade holding a cute baby animal! As much as I wish Wade ended up keeping the goat, he did find a proper home for him with Wanda and Tom.
The revolving door of new faces on the show continued. We saw the last of Carter and Enrique in this episode, as they formed a surprising friendship despite their shared interest in Lemon. At the same time, we were introduced to a new female lawyer named Connie who had some fun in finding George's weak spot when she took him out to a bar where Lily Ann was playing. How many girlfriends can George really go through in one season?! There was Lynly for a while, Tansy for a little, and now this new prospect. I hope for George's sake that he takes some time to be single before pursuing anything with Connie. I'm most excited to see what happens with AB and her mysterious knight in shining armor.
[ Photo: Darren Michaels/The CW — © 2014 The CW Network, LLC. All rights reserved]