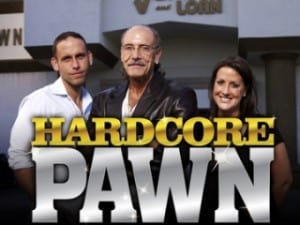 Previously on Hardcore Pawn, their long-time security guard and friend Joel "Big Joe" was arrested for stealing thousands of dollars' worth of jewelry from the store. This was such devastation for Les and the rest of the American Jewelry family. Last night's episode, "Short Staffed" sure was explosive, as I am sure many viewers would have suspected.
Seth's new body and bag search was not received very well by most of the female staff. Seth thinks that you can never be too cautious and that if one person who will steal from you, who's to say someone else will not try to. Ashley and Les are definitely not on board with this plan. They choose to believe that their employees would never steal from the American Jewelry family. Well, karma comes to bite Seth in the butt. None of the loan girls come in to work. They are all "sick". Seth chooses to believe that they are all really sick, but Ashley knows the truth. Who would want to work in an environment where you are looked at as a suspect? Let's just say that Seth is not everyone's favorite person today. When they figure out the girls are not coming, they get ready to face the enormous line leading out the doors of the store and work the windows themselves.
Ashley works tirelessly to get ahold of all their loan girls and see if she can get them back. She is able to get Nicky, one of their most valued employees, on the phone and begs her to come back. Nicky says she may never come back to work at American Jewelry after what happened with the body searches. Ashley promises to deal with Seth and like the good business woman she is, gets Nicky to agree to come back.
Of course it would not be an episode of Hardcore Pawn if we did not have the usual hiccups that walk into the store looking to do business with Les and the family. First, a man comes to Seth at the loan window asking for the $80 he was supposed to receive for selling his PSP. He claims he never got the money, but Seth's computer says otherwise. This guy has no receipt and Seth is still seething about their situation. He asks the security guard to escort this guy outside. It seems like Seth had all the angry and impatient customers because another man came to Seth demanding his computer hard drive back because he forgot it in the computer when he pawned it. Unfortunately, the computer was already in pawn and could not be touched, so Seth had to send him away. Instead of leaving calmly, the man started screaming and threatening Seth. He had to be escorted off the premises.
It seems that Les was the only one that spoke to someone normal this time around. A man came in looking to sell a humidor (cigar) cabinet from the year 1910. This thing is humongous. It could take up the entire wall of a bedroom without trying. Les was not sure who he could sell this too, but it was very cool. The guy tells Les that they usually go for $50,000. Luckily, after Les works his negotiator magic, he comes to a sweet deal of $1,400 for the humidor cabinet.
Seth is clearly feeling the pressures of working the windows, so he calls a family meeting. Ashley expresses the employees' outrage and she demands Seth put a stop to it because otherwise the girls will never come back. Seth gives in, gives up and leaves for the night asking that the girls be called and told the body searches are done. Les and Ashley are pleased, but Seth is less than ecstatic. He believes that his father and sister are not taking the safety of the business seriously.
New episodes every Tuesday at 9pm on TruTv.