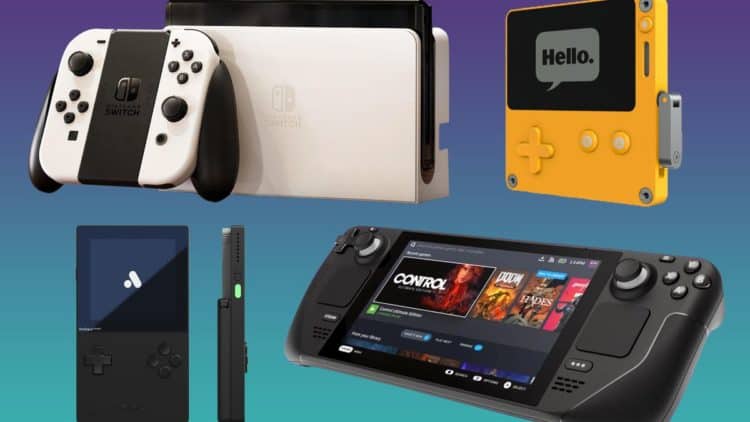 Handheld video game systems have been popular since they were first introduced more than 40 years ago. Having the ability to game on the go is something that has appealed to people of all ages. At the same time, however, not all handheld video game consoles have been successful. Over the years, several have been released that simply didn't live up to expectations. Over time, many of these consoles have been forgotten. However, despite the fact that they never became huge commercial successes, these forgotten consoles still played an important role in video game history. Keep reading for a list of 10 handheld video game consoles you forgot about.
1. Sony PSP Go
Sony is one of the most popular names in the video game industry, but that doesn't mean that all of their products have been successful. The PSP Go is a prime example. Released in 2009, the PSP Go was a follow-up to the moderately successful PSP. It featured a new design and it was intended to be lighter and more portable. The PSP Go was discontinued just two years after its release due to poor sales.
2. Nokia N-Gage
When most people think of Nokia, cell phones are the first thing that comes to mind. In 2003, they attempted to combine their cell phone technology with video games through a product called the N-Gage. This console, which was also a fully functional phone, was intended to compete with Nintendo's popular Game Boy system, but that didn't end up happening. The N-Gage was widely criticized for its poor design and it never caught on among users. In 2004, Nokia released the N-Gage Q which had an updated design, but it was also a failure. The N-Gage console was discontinued in 2006.
3. Microvision by Milton Bradley
Milton Bradley is most well-known for its board games, but they actually hold a very special place in video game history. Released in 1979, the Microvision was the first handheld console to use interchangeable cartridges. Although it initially seemed like the Microvision had the potential to be successful, the system had some serious problems. For example, the small screen wasn't really conducive for gaming and the cartridges were very easy to accidentally damage. Production of the console was discontinued in 1981.
4. Atari Lynx
During the 1970s, Atari was the leading name in the video game industry but by the time the 1980s rolled around, there were other companies encroaching on their spotlight. In order to stay competitive with Nintendo, Atari released a handheld console in 1989 called the Lynx which became the first handheld console to have a color display. However, despite a feature that should've given the console a competitive advantage, it still couldn't stand up next to Game Boy. According to Stealth Optional, "The main issue was that Atari just didn't listen to what customers really wanted, and regardless of the Lynx having the 'Achilles Heel' of a colour screen and a 16-bit processor, the games were mainly ports of what came out before, and many just couldn't justify having a handheld that only offered that." The Lynx was discontinued in 1995.
5. Watara Supervision
During the 1990s, everyone was trying to compete with Game Boy, but the system was just too powerful. The Watara Supervision become yet another casualty of that war. Released in 1992, Watara Supervision was half the price of the Game Boy, but that still didn't motivate people to buy it. Unfortunately, the system just didn't have enough games that people were interested in playing.
6. Game.Com
Released by Tiger Electronics in the summer of 1997, Game.com was the first console to have a touch screen and the first handheld system to have internet capability. Like many of the other systems released at the time, Game.com was plagued by the fact that it didn't have a great selection of games. On top of that, it may have been ahead of its time in some ways. Either way, it was a major flop and was discontinued after three years.
7. Gamate
When Gamate hit shelves in 1990, many people had high hopes for the console. It was the first system to compete with Gameboy and at first, it appeared to be evenly matched. Gamate had a solid build quality and features that were on par with Game Boy. Production of the console ended in 1994.
8. Game Boy Micro
Game Boy is arguably the most well-known hand handheld game console of all time. However, not all versions of the Game Boy were popular. The Game Boy Micro was one of them. The console was released in 2005 and it was intended to provide a great gaming experience in a smaller package than the previous iterations of Game Boy. Sadly, though, the concept just didn't catch on with consumers. One of the major issues was that it didn't offer backwards compatibility to play Game Boy or Game Boy color games.
9. Xperia Play
Like the N-Gage by Nokia, the Xperia Play was part cell phone and part gaming console. Despite being a Sony console, the Xperia Play never became as popular as the company hoped. Although there were rumors of the Xperia Play getting a second iteration, it doesn't appear that that's ever going to happen.
10. Gizmondo
Released in 2005, the Gizmondo didn't even make it a full year before being discontinued. As a result, it is widely considered to be one of the worst gaming consoles to ever exist. The system failed for several reasons including the fact that it had a poor selection of games.
Tell us what's wrong with this post? How could we improve it? :)
Let us improve this post!