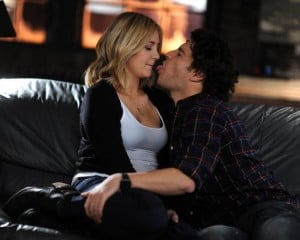 Holy crap Alex was reading! Check outside, pigs might have taken flight. Alex was trying to be serious, but Dave and Jane didn't believe she could, but the girl had a bit of a problem in following things through. The girl didn't even make it to the altar of her own wedding. Enough said.
But Alex hit the books and became smarter than Dave (not that hard of a feat) and knocked Jane down a peg by pointing out her controlling/ "aggressively helpful" nature. Threatened by her new found intellect, Dave and Jane thought a marathon of all of Alex's favorite reality TV shows paired with huffing glue would give her a one-way ticket to Dumdumville.
To show off her newfound brain powers, Alex held a soiree with Chicago mentally elite and those smartypants were total douches to her because she mixed up the id and the ego. This forced back to her old life of watching Baby Justice.
Max was avoiding an annoying guy he had sex with by pretending to be straight with Katie (played by Saturday Night Live alum Abby Elliott). It didn't seem like a problem to him because he was getting amazing Bulls tickets. But Penny and Brad thought that this poor girl deserved to know that Max was gay so they tried to out him in front of Katie. But once Katie said that she had an extra ticket, Brad ditched the plan and painted Penny as a scorned ex who was still lusting after Max.
After Penny told Katie about the pelvic shattering sex she could have with Max, Katie and her yabos did their best to get in Max's pants, but he nearly puked when her tongue nearly touched his.
In the end, Katie swore off dating gay men and thinks her new beau, Derrick, was the one. D-R-A-M-A!
Tell us what's wrong with this post? How could we improve it? :)
Let us improve this post!