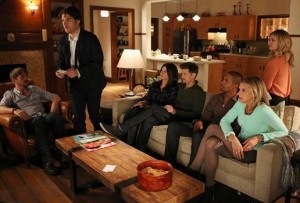 If there is one thing to take away from last night's episode of Happy Endings it's that you never ever underestimate the stupid/aloof friend in the group. Behind those deer in headlight eyes could lie an evil mastermind!
Last night's episode was full of tomfoolery that all stemmed from a guns 4 subs prank played on Dave by Max. Dave tried to get back Max with the help of the group with a fake lottery ticket scam but instead signed his death warrant and Max looked for revenge.
Each member of the group felt the wrath of Blum. But to be honest, some of the pranks weren't that bad. All of Brad's creams and lotions were replaced with glitter, which didn't really phase him too much as he twerked it for Jane as a sexy bedazzled construction worker whilst Jane was making it rain. Jane was on the receiving end of an exploding waffle, but seriously having whipped cream blasted onto your face is really a win/win situation.
In the end, Dave thought he was outwit Max and was fooled into thinking that he blew up Max's limo and killed him. But Max was ahead of the game (because Alex was his man on the inside and got Dave), but destroyed his only source of income that had no insurance. Womp womp.
Last night's episode was great for two reasons: 1) PENNY GOT ENGAGED! It seems 2013 is the year of Penny. But is it too late to bring back Chris (played by Brian Austin Green)? I like him and seeing that Wedding Band is cancelled he free to love big headed Penny, and b) Alex totally Keyser Söze'd the gang when it was revealed that she was behind the initial prank to Dave. She's not so dumb after all.