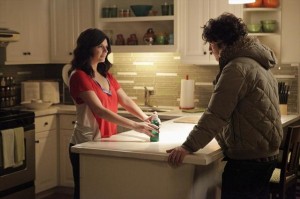 High fives all around! Happy Endings has finally returned to my TV!!!

In the first of two episodes, Brad was doing all he could to save his Chuckles and Huggs from closing down. Talk about parallels. Endings fans all doing all they can to save this ah-mah-zing show. Will both be successful? Only time will tell.
Brad enlisted his friends to help, but of course they found a way to make it all about themselves. Dave, who was channeling his inner Gavin DeGraw, attempted to play his original music, but all the kids wanted was a song about doodie. Alex turned the children into her very own child labor force to make jewelry and Jane gave a glimpse into her childhood when she revealed things she thought kids would like. Gambling, a documentary on fracking, bow hunting. I think this is the first time in three seasons that Jane has literally scared the crap out of me.
In the end, all of Brad's financial efforts caught the eye of one of the parents and was offered a new job. I guess Brad's day as a kept husband are over. Tear.
Meanwhile, Penny and Max were guzzling down cap fulls of NocheTussin, which was illegal in most parts of Latin America. For a second, I thought this was going to turn into that Bratislava club scene from Eurotrup, ending with Penny and Max aggressively making out, but all they did was sleep like hibernating bears and failed to return the texts of their loved ones. BTDubs… LOVED the Requiem for A Dream shout out. With the NocheTussin dried up, Penny and Max staged interventions on each other, but realized that they were better off with the Mexican sleep syrup.
There are four episodes of Happy Endings left and like NBC did to 1600 Penn, ABC will be airing back-to-back episodes for the new two weeks.