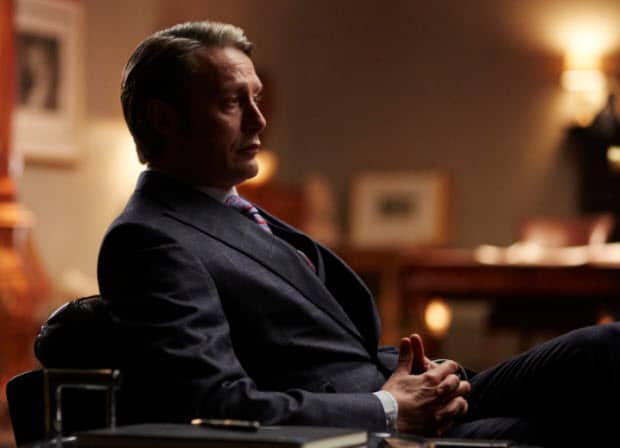 In last week's Hannibal, we saw the second season reset itself in the wake of the Chesapeake Ripper-related events. On his first real case back, Will Graham encountered a relationship between two people that resembled his own relationship with Hannibal Lecter. If "Su-zakana" could be criticized for one thing (and it was actually criticized for a few things, compared to the almost unanimous praise Hannibal has rightfully received this year), it was that the case was too heavy-handed. The parallels between Peter and Will might have been too strong. The coincidence of the situation–that Will would have to immediately confront his issues with the Doctor through a third party–were too heavy. Even if I agree with these opinions, which I'm still not sure I do (the differences in the power dynamics between both sets of characters are there and are pretty obvious), I don't necessarily think making images or metaphors explicit is a "bad" thing for a television series to do. I would rather a show give me the benefit of the doubt than worry that I might not understand what it is trying to do, but Hannibal–like Mad Men, which often gets dinged for being too overt in its imagery and themes–never makes me feel dumb. When Hannibal or Will is explaining the psyches of a serial killer, it's either in a way that reaffirms what I've already considered or it is as an interesting counterpoint to consider. Their words, of course, cannot be taken for gospel. Similarly, the things that Hannibal does visually and aurally are almost always left up to interpretation. So, when it looks like there are some obvious connections we are supposed to make, it's better to ask "why?" than to feel like we're being catered to.
That said, "Shiizakana" actually feels more heavy-handed to me than "Su-zakana" did. While last week's episode had a few other interesting aspects to it that balanced out the story of Peter and the social worker with other Will- and Hannibal-related issues, "Shiizakana" focuses more on its case of the week, which follows a Lecter Therapy alumni, Randall Tier. The idea here is to consider Randall's path a future option of Will's–one that allows him to embrace his animalistic instincts. "Adapt. Evolve. Become." These are the words Will utters during his session with Hannibal as he is told to give in to his fantasies during memory recall. Before going into some of the specifics of this and how animalism functions in "Shiizakana," I wanted to point out how this is, at the very least, a great thematic framing device for a Hannibal episode. The series, so far, has used tons of recurring religious images, as we are often asked to consider Hannibal as a Satan-like figure (he speaks of God in this episode and the amusement that comes with power and omnipotence). However, even though there has been just as much nature imagery, we are rarely guided in a way that makes us wonder about these characters as animals. When Hannibal and Alana have sex, there is no carnal desire underpinning it–on either side, I would argue, but especially on Hannibal's. What "Shiizakana" does, then, it give us another lens through which to view Hannibal. What does it mean to look at Will and Hannibal as animals? Is Hannibal trying to control Will like a pet, or does he want Will to become a wild beast? If humans are the only species that kill to kill, as Peter suggests, then why does Will's stag Patronus seen killing both Hannibal and the innocent couple in this episode? If an action is done in primal reaction or through primal instinct, is the human any less culpable? There are all questions "Shiizakana" asks and which I have my own answers for, but the fun in Hannibal is coming to those answers independently. The episode is so loaded with these ideas that there are plenty of ways to approach how to look at Will and Hannibal in a different light. The episode's obsession with that idea (and the script is absolutely littered with double entendres regarding animals or uses claims made about other characters that can obviously be applied to the people making those claims) is both its weakness and charm. Once again, for better or worse, Hannibal makes what it's doing very, very clear.
Dehumanization appears elsewhere in the episode. During Margot's session with Hannibal, the two talk about her brother, Mason Verger, and how Margot dehumanizes him in a way that dehumanizes herself. This, in turn, leads to Margot's realization that Hannibal is also dehumanizing her. "Psychiatrists who dehumanize patients are more comfortable with painful but effective treatments." It's an approach that makes so much sense in retrospect given how Hannibal has approached his form of therapy. So, even though Margot is removed from the Randall plot, as she was removed from Peter's story last week, the same themes come up in her scenes. Hannibal doesn't just push Randall to become the animal he is. Apparently, he really is a Mephistopheles (or any other demon), finding the things within people that convinces them to be the most chaotic versions of themselves.
"Shiizakana" also gives the most insight into Hannibal's style of therapy than any other episode to date. He tells Jack that "therapy only works if we have a genuine desire to know ourselves as we really are. Not as we would like to be." Franklin, from last season, is a great example of a patient who couldn't be helped because of not being able to or wanting to see who he really was. Will and Margot, though, are characters who are open to the idea, which is why Hannibal, in his weird way, can help them and is interested in them. Later, Hannibal says "a therapist's life is equal parts counsel and curiosity. We set a patient on a path and are left to wonder where that path will take them." Like Hannibal comparing Will to a caterpillar at the end of "Su-zakana," this idea expounds upon the reality of Lecter's influence: he can nurture and guide a creation only so far; at some point, the entity moves beyond him and embraces a life of its own. On a practical level, it's a great way to breed serial killers, since that independence creates a distance between Hannibal and his subjects. It's also sickening to think about, as Hannibal often is.
The other topic that "Shiizakana" brings up that I find fascinating is love–specifically, Hannibal's thoughts on it. These are his words: "No one can be fully aware of another human being unless we love them. By that love, we see potential in our beloved. Through that love, we allow our beloved to see that potential. Expressing that love, our beloved's potential comes true." Considering this, no one should have a problem writing off the Hannibal-Alana relationship as something completely devoid of love from Hannibal's perspective. Hannibal neither sees potential in Alana nor wishes to allow her to see any theoretical potential she might have. He uses her as a pawn in his game against will, just as he uses Randall in "Shiizakana," sacrificing him, perhaps, to open up the opportunity for a greater move. The Will-Hannibal relationship, however, is one in which this concept of love can and should be applied to (except by the shippers, who still believe there's some undercurrent of homoeroticism here). At the very least, Will and Hannibal appear to be fully aware of each other. That doesn't mean that the definition goes both ways–that to be fully aware of someone is to love them–but it means the potential for love is there. The pre-requisite has been met. Just looking at Hannibal, the rest of the conceptual pieces of love fall in line with how he sees Will. He sees his potential. He tries (and succeeds, in my opinion) to make Will see that potential, too. And, finally, Hannibal strives to make that potential come true, first by allowing Will to kill the social worker in a mental re-creation of the scene and by pushing him in the same direction as Randall: "You must allow yourself to be intimate with your instincts, Will." It's delightful how Hannibal links intimacy and love to its other concerns, since neither is the common conception of those terms, forcing us to consider a new definition in each case.
But that's just what I got from the episode, or the stuff I thought was interesting. It says nothing of how spectacularly shot the suspense sequence at the end of the hour is (the way we don't quite see Randall's figure racing down the snowy path to Will's house, how Will backs up slowly with the camera and turns off the light, how Randall bursts through the window while we maintain a vision of Will's face, which doesn't shift in position or expression). It says nothing of Margot's scene with Will, in which they share some whisky and thoughts on Hannibal's sessions–comparing notes, as it were. And it says nothing of Hannibal's hat when he's at the crime scene with Jack and co., which is easily the most ridiculous accessory we've seen him in (this episode, visually, also pairs well with the first couple episode of Fargo in its snowscapes). All of that is fair game, just as is speculation about when we'll see Michael Pitt. Sooner, rather than later, I hope.
[Photo via Sophie Giraud/NBC]