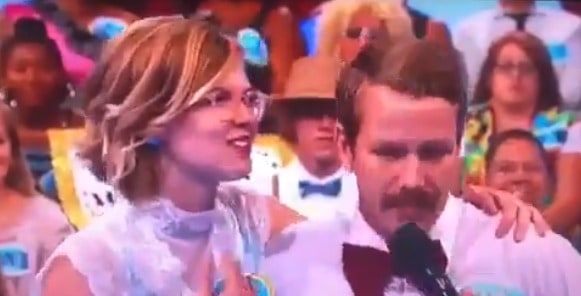 There are moments in your life that you should desperately try to avoid, but getting friendzoned on national TV is one that you just can't possibly prepare for. On this episode of Let's Make A Deal Wayne Brady was all smiles and eagerness when he went to ask the couple just how long they'd been together. What he likely didn't expect, and the guy obviously didn't, was that while Mr. Mustache was ready to proclaim a relationship that had lasted for months, the giggling and somehow oblivious date just HAD to blurt out that they're 'just friends'. Yeah, that look on his face that suggests he's been gutted, scooped out, and possibly even publicly neutered seems all too real and just too horrible for words. But here's a shot at it anyway.
It's important in any relationship to know just where you stand with someone. It'd be even more important to know before going on national TV where one of you might slip and make it known that you're "single and ready to mingle like a Pringle" as the woman went on to state. Really, the savage manner in which she did this and laughed all the while was enough to think that the guy must have read something the wrong way almost on purpose to avoid having his tender little heart crushed. While she was having a good time he was likely dreaming of a life spent growing old together, or possibly just a life at all. You can honestly feel for this guy since no matter how high his expectations were the woman obviously didn't give him a second to doubt that she was anything but in to him. Of course if he'd thought about it he could have probably counted up the moments in which she'd made it known that she wasn't that into him.
Some people might say that he got what was coming if he wasn't fully aware of her feelings, while others might go so far as to say that the woman is just criminally oblivious to the way he feels about her. Seriously, the moment in which he suddenly realizes that she's not into him makes a person think that someone told him his dog just died, and that he should just get over it. There are so many different ways that this can be handled, but the female Joker standing next to him doesn't seem to realize just how heartbroken he is, or doesn't care. She's there to have a good time and win prizes, his pleasure obviously takes a backseat to everything at that point. She's not wrong honestly, it's simply that she could have read his face and decided to handle it different way rather than announcing to the audience and the world that they weren't together.
Getting stuck in the friend zone is never a great feeling unless that's what you were going for, which very few guys ever are when it comes to women. If you're bound to be a friend and nothing else then the friend zone is something that you don't worry over. But if you're like this guy and hoping for something more, take a good look. The Friend Zone is perhaps the most painful place you'll ever visit in your life.
The worst things that can happen to you:
3. going to prison
2. straight up dying
1. thishttps://t.co/8TEBLZReQ8

— chelsea lockwood (@chelsealockw00d) April 27, 2018