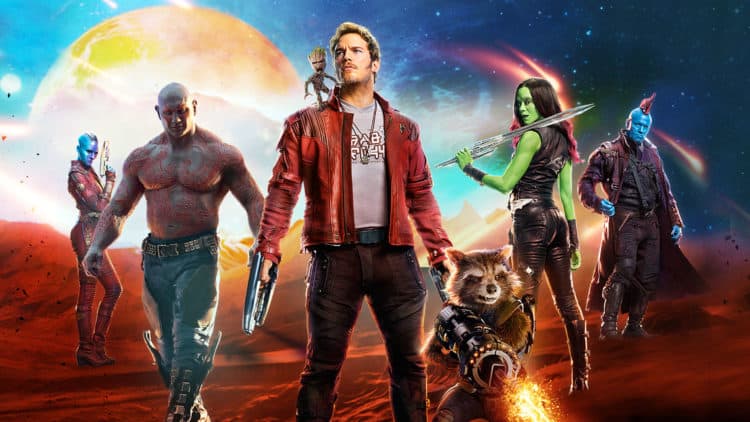 James Gunn has announced that Guardians of the Galaxy Vol. 3 has wrapped filming. That is very exciting news for us Marvel fans, especially after that whole fiasco James Gunn went through back in 2018. Honestly, who else thought he would return to direct the threequel? If it wasn't going to be him, then would there even be a point in making it? You can argue both ways but no one is going to complain that James Gunn was able to work things out with Disney and get his job back. And now, we'll just have to wait and see if it will all work out in the end. This will be the last Guardians of the Galaxy movie James Gunn will be working on. Heck, this could be the last time we'll be seeing the original cast members. Do people still think Drax will die?
There are so many reasons to get excited about this movie, including the additional cast members. Guardians of the Galaxy Vol. 2 teased the debut of Adam Warlock, a rather overlooked Marvel character. I mean, this character played a critical role in helping the Avengers defeat Thanos in the Infinity Gauntlet storyline. For all we know, if he debuted before Infinity War, maybe things could have ended differently. That's just a thought, but anything can happen in the Marvel Cinematic Universe.
For instance, when James Gunn announced that filming has wrapped, he also said that there is an unannounced actor who was playing a secret character. He also posted a picture of Zoe Saldana and his fiancée Jennifer Holland, but don't get too excited. Gunn did confirm that Jennifer Holland is not the unannounced actor, although she could be in the movie anyway.
Either way, this revelation is some exciting news. Leave it to James Gunn to set us up for a special surprise. You just have to wonder who this unannounced actor is playing, because Gunn loves to bring in the characters you would never thought you'd see in a movie. I mean, just look at what he did with The Suicide Squad. If you ever bet money on never seeing Polka-Dot Man in a movie, you probably lost a lot of money. No one would blame you, except this is James Gunn we're talking about. When it comes to this director, you have to expect the unexpected. In this case, it shouldn't be any different.
Well, it actually might be. The reason being is because this is the final installment in the Guardians of the Galaxy trilogy. I have a feeling James Gunn has something extra special in store for us. We can make a whole list of the things he has in mind, but he has already given us a hint. An unannounced actor for what kind of role exactly? I have a feeling this will be the last time we'll be seeing the original Guardians of the Galaxy. However, it won't be the last of the Guardians. We will be seeing a new team to carry on the Guardians of the Galaxy movies, so it's very likely this unannounced actor could be playing a new addition to the team.
Any ideas on which character that could be? Knowing James Gunn, it could be a character we will never expect. On the other hand, it could be a character that isn't even with the new Guardians. If that is the case, we could be looking at a significant Marvel character finally making his MCU debut. Right off the bat, I can think of a particular cosmic character who we have been waiting to see for a while now. In fact, we have already seen him before in a past Marvel movie, but his first on-screen debut was rather forgettable.
I'm referring to the one and only Silver Surfer. Yes, he did make his first big live-action debut in 2007's Fantastic Four: Rise of the Silver Surfer. There were no Guardians of the Galaxy for him to meet, but he did fight with Marvel's first family. Plus, he was voiced by Laurence Fishburne. While he was cool, he didn't exactly do much. His biggest contribution was sacrificing himself to destroy that giant fart cloud that was supposed to be Galactus. That was seriously anti-climactic. But that's okay, because I'm sure the MCU will correct that mistake. And a good place for the Silver Surfer to make his MCU debut is Guardians of the Galaxy Vol. 3.
He's one of the significant Marvel characters who's appearance in Guardians 3 actually makes sense. For one, he's a cosmic character, so it would only be a matter of time before the team runs into him. On top of that, his debut only sets up the inevitable debut of another significant Marvel character. I've already mentioned him, but this popular villain just can't be ignored. The devourer of worlds, Galactus himself, could very well be the next Thanos-level villain the heroes of the MCU could face. If the Silver Surfer does make his imminent debut in Guardians of the Galaxy Vol. 3, that means Galactus won't be too far behind. Oh boy, just a tease for the villain would make fans go totally nuts.
This is just me speculating, but you have to admit, this is very possible. For all I know, James Gunn could be referring to a lesser-known character we would never expect. That's what the man does, but I predict that he's saving the surprise for a more significant character. Why else would he keep it under wraps? Again, it's all just speculation. A part of me wants the Silver Surfer to be the secret character, but I'm sure he'll surprise me either way. Now if it is the Silver Surfer, who is the unannounced actor playing him? That's a whole other story and I'd have to make a separate list for that.
What are your thoughts, Guardians fans? If you have any predictions, I'm sure you can mention some characters I wouldn't even think about. That's just the fun of speculation.
Tell us what's wrong with this post? How could we improve it? :)
Let us improve this post!