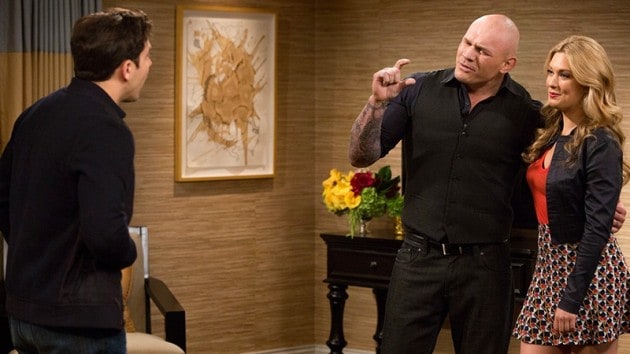 As a table-setting episode, part one of Ground Floor's season finale really only has to do one thing: get everyone to Vegas, where Mansfield is holding his daughter's wedding (after his island blew up, and his backup in the Alps was "eaten by the mountain"). However, it has to fill that short journey from point A to B out into 20 minutes of material; unsurprisingly, "The Proposal (Part 1)" does that masterfully, able to execute what is essentially half a story, subtly building to a powerful final moment over its closing scenes. It's debatable whether it needed to use every single second of its 21 minutes to get there; though it's much harder to argue that "Part 1" doesn't end on an evocative, suspenseful image.
Often, the charm in Ground Floor is found in its ability to breathe life into tired sitcom tropes; the first part of "The Proposal" is an amalgamation of them, from the spoiled surprise proposal to the extravagant trip for a minor character. Smartly, "The Proposal" hides its bigger stories from sight for the majority of the episode, relying on the audience not remembering that the pilot took place on Brody's 29th birthday, thus serving as the anniversary of when him and Jenny met. With Derek running around with strippers and Harvard taking down gamblers (by gambling), "The Proposal" lets the secondary cast provide the time-wasting activities, which are not only hilarious, but allow the show to organically delay the central conflict of the season without having to involve the main characters.
Except Jenny, whose exception to the rule turns out to be the key to the entire season. As Jenny runs around trying to find another birthday gift for Brody (after his ex shows up and buys a better version of the $300 pen Jenny just bought him), "The Proposal" is using its first twenty minutes to establish the lengths Jenny is willing to go for her boyfriend on his birthday – that is, until she finds his Myspace page, and she ignores the bullet on Brody's list of planned accomplishments about being married by the time he was 30 (until his ex points it out for her, of course).
Instead, she tries to appeal to him by getting a UFC fighter to fight him in their hotel room; but later, when she returns, she uncovers an engagement ring. Now, Ground Floor could be playing coy with us, but given the show's approach to storytelling this season (and amid rumors that the show's facing cancellation, if it hasn't already been cancelled behind closed doors), it certainly doesn't feel that way. And that weight comes crashing down on an otherwise light episode, as the episode centers on the one gift that would really blow Brody away; getting engaged.
All season, Ground Floor's been building to this, whether its more jokes about Jenny's upbringing, or the more obvious moments where she simply talks about not wanting to get married. Even given that set-up, it's Heelan's performance in those final seconds of the episode that really give this ideological conflict some serious dramatic weight, as a look of restrained panic sweeps across Jenny's face. It makes for a very powerful closing moment, particularly on the heels of a lot of scenes with Derek talking about strippers, Threepeat being Heather's assistant again, and Lindsay being creepy about sleeping with Harvard.
Not that those scenes are bad; however, the episode is called "The Proposal," which intentionally puts an extreme focus on Brody and Jenny's relationship; and even though it ends without resolution (by design, obviously), it still acts an effective episode of television in how it builds quietly to that very specific moment, slowly but surely pushing the show's big emotional hand squarely into the center of the table.
It does so without forgetting about the other half of the show's main duo; however, Brody's personal realizations before his birthday almost seem like an afterthought, overshadowed by the more dramatic, exciting story of his shared relationship with Jenny. Heather's return – and imminent breakdown from all the pressure of working as a partner in Hong Kong, where Brody was supposed to go – brings this to light just as it did the potential engagement, but it's slightly less effective here, simply because the show doesn't quite follow through on it, at least in this half hour. The beats are there, but mostly in conversations with Jenny, whose quest to find Brody the perfect birthday gift (a riddle which the audience already knows the answer to) takes over any notion of self-reflection that appears in the script.
However, this is a small complaint about what is essentially half a story; as the opening act, "The Proposal (Part 1)" puts a lot of Ground Floor's talents (and predilections for vulgar jokes and general language) to the forefront. Obviously, it becomes infinitely more interesting when it pushes away from showcasing comedic talent and into the big story of the season – but when it's just hanging out with the crew in Vegas, Ground Floor is content to just be the amusing, charming show that it is, a great reminder of why it's so easy to invest in the romantic relationship at its core.
[Photo via TBS]