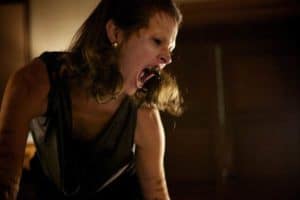 Thus far in its run, Grimm has had many modes in which to slip in and out of. There's the funny, slightly campy Grimm that brings levity to an episode; there's the creepy Grimm that layers on the supernatural elements and horror movie homages; there's the expository Grimm, heavy on police work and general mythology that provides the foundation for basically every installment. Though the show has leaned too heavily toward each of these at one point or another, resulting in a good-but-off-balance episode, it's been getting the hang of it in recent times, including last week's creative pinnacle "Organ Grinder". Once you feel like you've mastered something, it's only natural to want to move on to another endeavor and for Grimm, it looks to be emotion.
Emotion and genre shows tends to be a balancing act of its own. You want to be able to bring the humanity to an otherwise otherworldly situation, but if there's too much trudging through emotion and feelings, you risk alienating a certain portion of your audience. Luckily, Grimm managed to bring a haunting sadness to "Tarantella" that admittedly stayed with me more than I expected. In the last couple of minutes of the episode, Lena Marcinko (Amy Acker), spinnatod and soccer mom, was thwarted from feeding on the third young man she had lured into her (metaphorical) web; after being taken in by the police, there's a shot of her, framed by a spider web, having aged what looks to be 50 years, all gray hair and wrinkles. Lena didn't want to kill nor did she really have a choice, considering the fact that she had to prevent herself from rapidly aging, which is what made "Tarantella" such an emotionally intriguing episode of television. Thus far in Grimm, most of the Wesen that Nick has come across have killed/harmed people for the sake of it and looked to be enjoying every scream, every cry, every heart finally stopping, so the prospect of someone having been born into this world and not enjoying her abilities was a nice wrinkle in what could have been a fairly routine episode of Grimm. You had to at least somewhat feel for Lena and that type of gray morality (not all bad guys are 100% bad, not all good guys are 100% good) can elevate Grimm to the next level; of course, killing is wrong and she should have been punished, but she never really had a chance to have a life. It made you think about just how much culpability she really had in the matter, with the biological gun to her head, and there's a certain sadness in having something assigned to you from birth that you can't change.
Plus, she passed the same fate along to her daughter Sally, as shown in a quick shot before she went to her grandma's, so Sally will have to endure the same type of pain and unfortunate consequences of her heritage as her mother did in order to survive.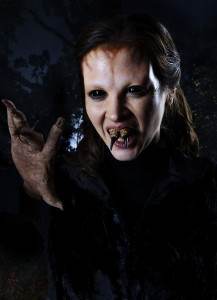 It wasn't all unusually touching endings and not-so-evil evil villains on "Tarantella", though, as there was some nicely serial elements that were woven in. Aside from a cute callback to the pilot courtesy of Monroe, Nick came face-to-face with the Wesen that have been coming by his house and scaring Juliette. You may remember that a refrigerator repair man from several episodes back recognized Nick and started spreading the fact that a Grimm is around to any creature that would listen; "Tarantella" found a pair of young eisbibers egging Nick's house, now that the proverbial "monster under the bed" had been discovered, leading to Nick confronting the two men responsible for his new reputation. Although I've been using these reviews to poke and prod at Grimm to become more heavily serialized, I have to admit that they're kind of pulling off the right mix of serial and procedural right now. There's been a sort of slow burn for the last couple of episodes, with Nick's actions from the beginning of the season finally making enough noise to alert the rest of the Wesen world and the implications that that has on his safety. Prior to this, he had the freedom to do his job, take out the appropriate creature, and go home without having to worry, but there's not that type of freedom anymore and without it, Nick's safety may be in danger. He's already been beat up and Monroe's already been beat up, but this is merely the beginning and the noose can only keep tightening from here on out. "Tarantella" had a few moments of "hey, remember when…", but it wasn't enough to confuse anybody and served more as a solid B-story than overshadowing the case, one of the better the show had unfolded.
I mean, even if your exposition dump (in this case, old lady spinatod Charlotte) turns out to be a really cool addition to an episode, you know you've done a good job.
I think the main reason I liked the serial elements of "Tarantella" is that it hinted at a bigger world than Grimm has portrayed. Take, for example, the Japanese Grimm that Aunt Marie had encountered in some of her many travels, as read about by Nick. We've been pretty entrenched in Portland since day one, with only a brief encounter with someone from outside the bubble, and it really makes you wonder about the world outside of the Pacific Northwest. How many Grimms are there currently in the world? Are there any near Portland that Nick could team up with/get help from? Will we be getting to meet any other Grimms? Even if it's only minor appearances and random documents, I'd love to know more intricacies about the Grimm world; obviously, it's not like Buffy the Vampire Slayer with only one slayer at a time, so finding out the mechanics and how things worked could help flesh out the world around Nick and Monroe. And the retirement home from creatures, where Charlotte currently resides, hinted that there are others like Monroe that have turned their back on their birth status in order to live a quieter, more "human" life. Expanding the type of creatures that we come into contact with gives a little more complexity to the cases Nick handles and makes the Wesen world more of a world, as there's more to any world that criminals, anarchists, and masochists.
Grimm had another very strong episode in "Tarantella", combining a sexy, dangerous cold open with a case that balanced reality and the supernatural and enough serial elements to please even the most ardent TV fan. It was a little scary and a little sad, though the bubbling tension between the Wesen world and Nick may be ready to spill over at any given moment. Going forward, Nick may have to leave the bravado he started to pick up last week in his back pocket, as his reputation may have put a target on his back and Monroe's back; we've seen many creatures thus far in Grimm and a majority of them would be brave enough to take a shot at taking out the latest Grimm, a real trophy that could buy some serious respect among their peers. After wavering for a little bit, Grimm has seemed to found its way and I'm looking forward to seeing the depths of the Wesen world, Nick's continued growth as a Grimm, and just how dark the show is willing to go.
Thoughts, Quotes, & Observations:
-"Here I was trying to be abstract, but I guess I wound up being pretty simple."
-"You want to pick it up again or you want me to give you the finger?"
-"I didn't know how else to prove…you have a lovely wife."
-"I don't know, have you searched the web? So to speak…"
-"Any other body parts you want to see?"
-Monroe speaks a little German, apparently. He's a total Renaissance blutbad, no?
-The fake out when Lena's husband Robert was introduced was good stuff. Also really cool, Lena's finger growing back after having been bitten off in the cold open.
-Here's a little bit about desiccation and fauvism, if you'e interested.
-Am I trippin' or was the "previously, on Grimm…" opener used for the first time tonight?
-There's a former True Blood star coming to the show in the near future and their appearance involves a character we've already met.
–Grimm is off (again) next week, this time in favor of the NAACP Image Awards, and there's been no episode description released for its return.