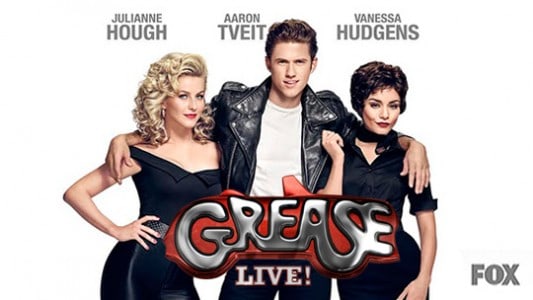 Finally! A live musical television event that has my blood pumpin' and my hands jivin'. I've enjoyed the three previous musicals brought to us by NBC (well, two, anyway- Peter Pan Live left me feeling a little underwhelmed.) As someone who is more familiar with Grease the stage musical itself rather than the 1978 movie phenomenon, I am anxious to see how it all plays out on live TV. If the FOX promos are any indication, we are in for quite a treat.
GREASE IS THE WORD: Sandy and Danny's opening scene on the beach, reminiscent of John Travolta and Olivia Newton-John. Jessie J performs the opening number as she struts through the various sets and dressing rooms. I'm a sucker for backstage buzz, and I love getting to see the actors (and audience members) moving about behind the scenes. ANA GASTEYER!!! (Um, was she just singing on the front porch of the Fuller House house?!? And how did I not know she was going to be in this? Shame on me.)
"I have a feeling I'm not in Salt Lake anymore." ~Sandy
Our little Star of the Dancing floor has come a long way from Utah… Julianne Hough in a role she was born to play; the best Sandy since London's 1993 West End production, Debbie Gibson.
SUMMER NIGHTS: Probably one the musical's best known numbers, this version is brought to life in the gymnasium of Rydell High. With the T-Birds on the bleachers and the Pink Ladies at the lunch table, it's choreographed to perfection.
Unlike the NBC musicals, Grease: Live is performed in front of a live audience, which I think makes it more exciting to watch as viewer at home. Just before cutting to the first commercial break, we get Mario Lopez (Vince Fontaine) giving us some random fun facts (600 people in the cast and crew, 14 sets on 20 acres!) and we get to see the cast scramble in the background to get to the next scene. This is what watching a live musical should always be like. (I hope the folks at NBC are taking notes.)
FREDDY MY LOVE: I'm a little confused when Keke Palmer's Marty walks through a bedroom door and winds up on a stage in front of USO servicemen, but it works. With the Pink Ladies as her backup, it's a dream sequence brought to life.
LOOK AT ME, I'M SANDRA DEE: Shout out to Vanessa Hudgens as Rizzo, who is performing this show less than 24 hours after losing her father to a battle with cancer. She's honoring her father with this performance, and is delivering one I am sure he would be proud of.
GREASED LIGHTNIN': Danny and the guys rock the garage with this electrifying number, complete with a flashy costume change (and then back again). We get to see more backstage magic as the number ends, as some of the cast board a shuttle to travel to the next set.
Having Didi Conn, the original Frenchy, play Vi, the waitress at the malt shop, is a genius stroke of stunt casting. And Elle McLemore's over-the-top Patty Simcox is spot-on.
THOSE MAGIC CHANGES: This is the perfect song to take us through the various scenes as Danny tries to find a sport to join. Where has he been hiding those gym shorts??
"Who wants to watch a bunch of amateurs dance in a contest on live TV?" ~Sandy (HA!)
The scene in the malt shop between Vi (Conn) and Carly Rae Jepsen's Frenchy is touching and heartwarming. Jepsen launches into a brand new song written exclusively for Grease: Live, and it's clear she was the perfect choice to bring the beauty school drop-out to life.
BEAUTY SCHOOL DROP OUT: I think Boys II Men playing the part of Teen Angel is a good idea, but I think RuPaul would have been a genius idea. For me, Jepsen stole this number, and she didn't even sing a note.
It's nice to see Joe Jonas climb out of the shadow of his little brother to shine again.
And excuse me while I pick myself up off the floor, as I just realized that the original Jan Brady from The Brady Bunch is playing the part of Mrs. Murdock. (Marcia must've been busy.)
BORN TO HAND JIVE: It's fun to watch Julianne Hough play a role completely opposite of herself, where she's nervous and shy to dance in front of other people. This number feels like a Dancing with the Stars explosion. There's so much going on on the dance floor, I don't even know where to watch, but that's not a bad thing.
HOPELESSLY DEVOTED TO YOU: It's kind of a weird transition to this number, from the chaos of the gym to Sandy suddenly solo on her front porch. Somewhere tonight, I'm fairly certain Olivia Newton-John is smiling.
SANDY: The drive-in movie might win for best set of the night. This song gives Aaron Tveit a moment to shine as Danny. Not since Beverly Hills, 90210 originally aired have I enjoyed thirty somethings playing high school characters so much.
THERE ARE WORSE THINGS I COULD DO: Vanessa Hudgens has the role of Rizzo down perfectly. Even when she isn't speaking or singing, she oozes Rizzo in her movements. After this number, it's clear she's forever my heroine of high school musicals.
LOOK AT ME I'M SANDRA DEE (REPRISE): My personal favorite of the musical! This scene between Julianne and Vanessa has me channeling my inner J.Lo and gives me the goosies. "Goodbyyyyye to Sandra Deeeeeee!!!!" (How do some of these sets look like carbon copies from the movie?)
YOU'RE THE ONE THAT I WANT: Sandy 2.0 makes her debut, looking every bit the part. (Thankfully, this Sandy ditched the cigarette that movie Sandy was toting.)
WE GO TOGETHER: The cast exits the Rydell gym to board the shuttles (curb check!) to arrive at an actual carnival, leading me to wonder if the car will even fly away for the last scene?? The all-star cast delivers a final dance number that has my heart smiling. This is what musicals are supposed to do. AND THE CAST GETS TO TAKE THEIR BOWS!!!
I hope the ratings are through the Rydell roof for Grease: Live, and all other networks adjust any and all future musicals to match this format. This was pure Sunday night bliss for me, and pray to the television gods we get more like this sooner rather than later.
Grease: Live Review
Summary
A live adaptation of the classic musical details Danny and Sandy's summer romance and what happens to their relationship when Sandy unexpectedly transfers to Danny's high school for senior year; opening performance by Jessie J.