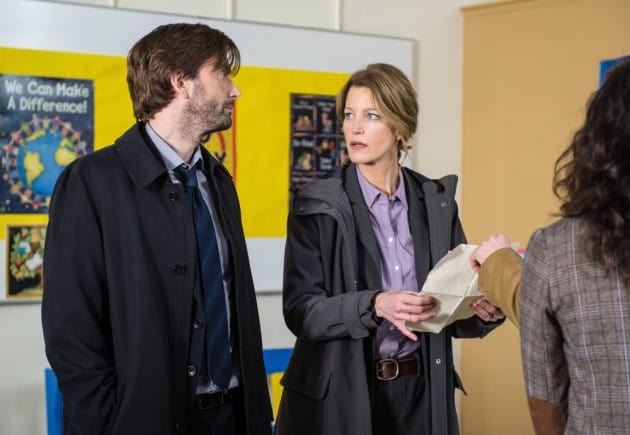 Gracepoint has now reached the halfway point of the season. At five episodes, a series tends to make or break in most cases. Without drawing comparisons to it's British predecessor, it's actually turned out a pretty good series so far. The best part about hitting the midway point, is that instead of posing more questions, we will start to get answers in the back half.
This week, the investigation is turned in a new direction by finding a flaming boat in the ocean, and they found some new information about the background about the older Gracepoint resident, Jack Reinhold (Nick Nolte). I was really looking forward to the investigation turning toward Reinhold, because Nick Nolte is a fantastic actor, and everything in the series he's done so far has been excellent. I was actually a little disappointed with the length at which they investigated his character, just because I think he deserves more to do. However, all the scenes that Nolte had in this episode were EXCELLENT. Seriously.
They also interviewed the preacher like a suspect tonight, which is a good move. As great as Kevin Rankin is, I definitely suspect that the preacher knows more than he is letting on. Even if it just turns out that he's creepy and obsessed with Beth, I WANT to know what he's up to. He's up at 4am all the time. What gives?
That suspicious reporter that Carver knows is starting to get on my nerves. She obviously slept with Ellie's nephew just to get his help investigating things, and then she gets an interview with Beth Solano?Now she has the place crawling with paparazzi. She's bad news, I tell ya what!
This was an excellent character episode. We learned more about Detective Carver's past, illness, and he has an ex-wife and a daughter? Who would've thought? I knew there had to be more of him than meets the eye, but the dinner scene with Ellie, Carver, and Joe was just fantastic. It really humanized Carver. David Tennant has been brilliant, but this was his best episode yet. He showed some real growth, and it's extremely compelling.
This was a great episode, and it really threw us off the scent. I'm sure that Jack Reinhold didn't do it, but it's such a compelling argument that I can imagine that they'll spend at least a couple of episodes sorting it out, before finding who really did this. It's fascinating how a beloved old hermit can turn into creepy old man in the blink of an eye, eh?
One more question I have: WHY IS NO ONE INVESTIGATING THAT CREEPY LADY WITH THE DOG!??!?!?! I just don't understand. She's absolutely bonkers. There has to be some reason for them to talk to her some more. Hopefully, the newspaper editor comes forward with that crazy threat she made, and then the police will finally treat her like a suspect. I'm not sure she did it, but she's obviously got something creepy going on.
Another solid episode was turned in on Gracepoint. By this episode, I'm planning on sticking it out just to find out who did it, if nothing else. And honestly, I have no clue what to think. What about you? Any theories about who did it? Are you still enjoying the show? Let us know!
Image via FOX