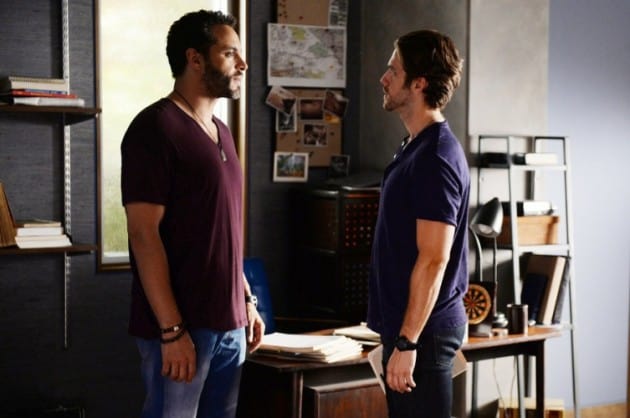 This week's episode of Graceland, "Sense Memory," opens right where "Chester Cheeto" had left off: a masked Briggs (Daniel Sunjata) has crashed his vehicle into Layla Sarkissian's (Maryam Cné) car and proceeds to approach the trapped woman, who in a heartbeat lets him know who her father is and that he would have him killed if anything happens to her. However, Briggs only steals Layla's purse and leaves her terrified yet unharmed. All along, the agent's plan was to take Sarkissian's daughter's cellphone and use the device to track down Former FBI agent Colby Moore (Evan Jones).
The next morning, as Mike (Aaron Tveit) is popping pills once again (agent Warren, we are worried about you), he gets a call from the Bureau letting him know that Sid Markham (Carmine Giovinazzo) has been found dead a the border. While the Gracelander minusCharlie -who is in Florida with Amber- have breakfast in the kitchen and Briggs diligently triangulates the last locations where Colby's phone was pinged, Mike lets everyone know that the show is now one villain down and that the wisest next step to take is to stop pursuing the Solano case. The general reaction is of disappointment, the whole team's consensus is that they should have taken Sid down, additionally, Johnny (Manny Montana) ties to convince agent blue eyes to give him more time to take Carlito, but he is unsuccessful, as a result, tasks are given, Jakes (Brandon Jay McLaren) is going to take care of the Solano stash houses, while Mike and Paige (Serinda Swan) will intercept Carlito's men at one of their drop sites.
In the meantime, team "b*tches get sh*t done" aka, Amber (Brit Morgan) and Charlie (Vanessa Ferlito) are in Miami, trying to find a drug dealer named Reggie, who is liked to Germaine. To jog Amber's memory and lead to Reggie, the woman, followed by a team, drive around time aimlessly until Charlie decides that they have been wasting time, which causes Amber to start another episode of desperate almost name-dropping, she remembers that Reggie used t get Oxy from a doctor, who, thankfully, Charlie is able to track down.
In what I believe to be an interesting turn, Mike and Paige are about to close the Solano case together, which is somewhat poetic, but still startling. I am trying hard to forgive Miss DEA, I want to, I swear, but it throws me off that Mike and her would re-team so fast. Is this a case of "the hair of the dog that bit you" kind of medicine? Whatever it is, as a shipment is thrown by a plane, Pike and a team intercept it and arrest Carlito's goons, however, when the former couple approach the containers in order to seize what should be a copious amount of drugs, they only find chickens. Paige is upset and concludes that someone alerted Carlito, while Mike is in some kind of hypnotic state, counting the animals. As he does so, one of the Solano lackeys who had not yet been apprehended opened fire and would have killed Mike if Paige hadn't covered him. That saved might be helping Ms. Arkin's karmic state, and was probably the one reason I thanked she was there, but I still don't fully understand why anyone would let her be carrying guns in Mike's proximity. This is not a good idea for any ex couple, especially not for one where one of the parts tried to kill the other.
Following the human breadcrumbs to Germaine, Charlie and Amber approach Doctor Greemblat, at a coffee shop and tell him that they want to do business with him, they add that Reggie sent them. The physician claims that he doesn't know anyone named Reggie and takes off as fast as he can. The man does, however, call the police and alert them about the two ladies stalking him, which ultimately leads to both of them ending up in a patrol car driven by yet another dirty cop.
In the meantime, Briggs has finally located Colby, who lets him know that Logan lied when he claimed that he had left the field because he had cancer. Instead, the former FBI agent, explains that being undercover with Ari for a while left deep psychological scars, therefore, he voluntarily walked away from the case. Briggs, in turn, tells his new pal that he is not letting the Bureau use him as a human mop (or sin eater, how he calls it), instead, his plan is to enlist Colby and the Gracelanders and take Ari down. I gotta hand it to Briggs, it's a great idea. As Paul brings Colby to the house, he mentions that there will be an opening, since Paige was leaving Graceland, yet Mike, who was casually on his way out, overhears him and breaks the news that his former flame has pulled her transfer papers.
Later on, Paige reaches out to Briggs and tells him that they need to talk. The FBI agent retorts that even if Mike decided to forgive her, she still has to go since she betrayed everyone, but Paige turns the tables on him and mentions that he betrayed Charlie as well, and she is right. Not to mention that Briggs also tried to have Mike killed by Amber that one time. Regardless of the disagreement on the living arrangements, Paige expresses concern over Mike to Briggs. Not only she witnessed Agent Blue Eyes in a trance counting farm animals, she also saw him in the bathroom taking pills. With this information, Briggs comforts Mike later and the two have a talk about what the latter saw in those 6 minutes he was dead: 47 birds and an old clock set on 10:10.
Speaking about Mike, when he was casually leaving Graceland, he was, in fact, trying to score some Oxy at an alley, where he got ripped off by the dealer. As a result, Mike pulled his badge, both scaring the criminal and getting his hands on a stash. This looks like just the beginning of a series of terrible choices, cause and effects. At the same time, it beats me that Mike is actually capable of going on a bender. Aren't undercover agents subjected to drug screenings? Let's be real, nannies in NYC get tested at random!
In another troubling front, Johnny is followed by Jakes to a boat at a marina, where the drugs that were on the cargo that was replaced by chickens actually was. Johnny finally confesses to his roommate that Carlito has him hostage and doing his dirty work, by threatening to kill Lucia. He also confesses that he was the one who shot Sid. Jakes is now aware that Johnny is in deep trouble, however, he decides to help him and the two go via boat to Mexico to deliver the narcotics. Ultimately, they decide that they will enlist the rest of the Gracelanders to get Carlitos.
Back to team "b**ches get s**t done," the girls are in the hands of the dirty cop, in the middle of nowhere, where other men join. No one seems to have ever heard of a dealer named Reggie, which almost gets the woman killed, only that in the nick of time, Rodney shows up, making it clear that Amber had gotten his name wrong. In the end, Amber honors the deal she made with Charlie and keeps her cover under wraps, which results in the operation moving further. Now Charlie is in business with Rodney, and if they keep following breadcrumbs, without getting killed in the process, Germaine might actually be found.
At the end of the episode, Briggs summons all the Gracelanders and gives them the details of operation "Take Ari down", despite a newfound drug addiction, Carlito trouble and Florida related exhaustion, everyone plus Colby is in. Like in the old times.
"Sense Memory" was a teams galore kind of episode, at first they all worked in pairs, and by the end, they are all in the same mission. There was balance in the installment, all plots advanced and there was a sense of communion, especially at the end. In my opinion, except for Pike re-teaming a bit fast, pieces are starting to fit, or at the very least, they look pretty laid on the table. I guess we will see what the puzzle looks like as it gets completed.
Highlights:
– Jakes: he has been my favorite character so far this season, he's the only one who's not on edge and has supported pretty much everyone. Off all the roommates, if I got in trouble, DJ would be my first call. Hands down.
– Amber: she is such a wild card that it is exciting to watch her scenes and have a mixed cocktail of emotions that involve minor panic attacks and sudden relief. Brit Morgan was perfectly cast for the role.
-Tactical Briggs: he is my favorite kind of Briggs, sure beats hot-headed Paul.
– Pike: yes, I know what I said, they have made amends too quickly, and I stand behind that. However, the chemistry between Serinda Swan and Aaron Tveit works. It was a nice detail to have Mike letting Paige do the honors and open the shipment (even though there were chickens in it). It was also sort of cute how Paige lowered her voice while confronting her ex in the bathroom. I want to ship these two together again, I'm just not there yet.
[Photo via USA Network]