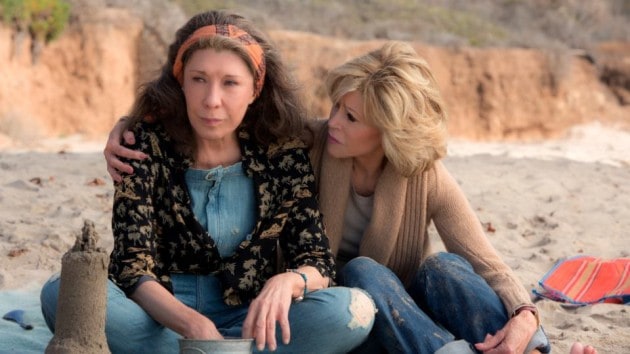 It's been a long road to get here, but we're finally to Robert and Sol's wedding week in the Season 1 finale of Grace and Frankie, "The Vows." I'm going to keep this review relatively spoiler-free, since it's a finale, but I'll touch on the highlights and talk about what the finale possibly means going forward.
The episode opens with Frankie being forced to lie for Grace so that she doesn't have to talk to her boyfriend. As revealed at the end of the last episode, Grace knows that she needs to break up with Guy now that's she's realized she isn't in love with him. Robert and Sol, meanwhile, are making final preparations for their upcoming wedding, and they get into an argument when Robert reveals that he hasn't written his vows yet. Robert tells his fiancee that he doesn't know how to express feelings as well as Sol, but Sol refuses to hear any of it.
Grace ends up figuring out how to deal with her relationship, but events don't play out the way that she expected them to. Frankie, meanwhile, is finally ready for her closure with Sol as they head to their old house with their kids to clean it out completely. Unfortunately, the ex-spouses make an error in judgement while at the house. During this time, Robert continues to struggle with his vows, even with Mallory and Brianna's help, and he just can't seem to be able to express his feelings in the way he would like.
In the end, Frankie and Grace both get the closure that they needed in unexpected ways. We still didn't quite get the wedding that's been built up through the season, but we learn that it will remain a driving force in the second season. Grace and Frankie's friendship is stronger than it's ever been, as the women realize that they need each other more than that could have ever imagined, and Robert and Sol are in a much different place than viewers anticipated. It will be very interesting to see how the events play out in the already-announced second season, but the backbone is strong enough that the show should be able to survive no matter what happens.
Overall, "The Vows" was a solid episode, but it wasn't quite as good as many that came before it. While it sets up plenty for Season 2, it doesn't provide, in my opinion, nearly enough closure for too many established storylines. Whether or not my opinion on its quality is swayed by the strength of Season 1 as a whole, though, I can't say. Throughout the course of its first thirteen episodes, Grace and Frankie established itself as a smart comedy with a lot of heart. There were plenty of flaws present after the first couple of episodes, but the writing matured as the cast learned to truly blend, and the show was all the stronger for it. There were a few characters, including Brooklyn Decker's Mallory, that I feel were somewhat wasted throughout the season, but I think that any of those type of issues can be easily corrected next year. As long as the narrative finds itself quicker and the cast continues to work as a team, the next season of Grace and Frankie has the potential to be something really special.
What did you think of "The Vows" and the first season of Grace and Frankie as a whole? Will you be tuning in next year for the second season? Let us know your thoughts down below!
[Photo via Netflix]