The next day, presumably, at the Vanderbilt polo match party, Nate shows up with Bree. The first thing he does is introduce her to his grandfather, who immediately recognizes her and what Nate is trying to do. She says she didn't realize this was a Vanderbilt party, gets upset, and runs off. She later tells him that she too rebelled against her family, but is now trying to get back in with them, and being front row at the Vanderbilt party isn't going to help her case.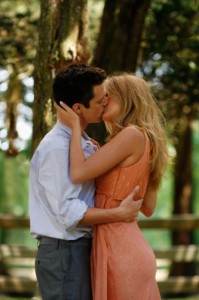 Vanessa and Scott also show up at the typical Gossip Girl, ritzy, Upper East Sider party. They spot Dan, and Scott encourages her to go talk to him, so he can sneak off and talk to Rufus. Vanessa sets off to berate Dan, just as Blair comes to grab him to enact their plan to keep Carter away from Serena. Imagine Vanessa's excitement when her conversation with Dan was interrupted by Blair Waldorf.
Meanwhile, Scott is awkwardly introducing himself to Rufus and staring at him, instead of shaking his hand. 'I've just always been a fan of your music,'he says, as Rufus watches him curiously.
Dan and Blair serve Carter with a restraining order–from Blair. She declares that from now on she will be glued to Serena's side and that he won't be able to stalk her anymore. Serena comes running up, and it becomes clear that she lied, and is not being stalked. Carter threatens that "someday you'll be alone… what then?" and before she can respond, she's swooped away to throw out the first ball of the polo match. Next thing we know, she's taking off on one of the horses and Carter is right behind her. They finally slow down, and we find out that Serena's dad wanted nothing to do with her. Carter consoles her, and they make out.
Back to Nate and Bree at the party, leaving. Grandpa Vanderbilt stops them, telling Nate he's a part of the family, no matter what, and Nate drives his fancy car home.
Once they're out of earshot, we catch Gramps on the phone telling someone he's figured out how to "do something about the Buckley's."