"Nine Hours" was a perfect name for the latest episode of The Good Wife. Not only did it relate to the case of the death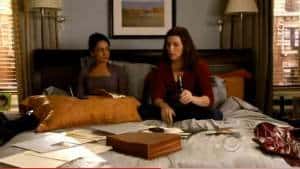 row inmate and the nine hours to secure a stay of execution, it also refers to the nine extraordinary hours of television we have been blessed with so far during season two.
Unlike most episodes revolving around a specific case, this one didn't take place in the offices of Lockhart, Gardner and Bond. The predominant scenes were filmed in Alicia's bedroom and the Indiana Correctional Facility that housed Carter Wright as he awaited his fate on death row, allowing for some character interactions we wouldn't have seen otherwise. Other interesting points were Diane's increased involvement in the case and the absence of Derrick Bond. I've been awaiting Diane doing something other than sitting behind her desk. I was kind of surprised that she was a calm as she was. She's portrayed as an ultra left-wing liberal, but she was all business as she supported Carter and worked toward an appeal, all the while knowing that the chance a stay would be granted was a long shot. Frankly, it amazed me. Since Bond joined the firm and took on the role of Alicia's mentor, he has rarely made an appearance of any significance. All hands were on deck, but not his. It seemed odd. Have they run out of story for the character even before he had one?
I loved Barry Scheck making a cameo appearance as himself. Every week, the character of Cary Agos continues to get air time and good story. This week, it was a call by Scheck that brought him into the fold. I thought using a lawyer ofsuch stature was a really nice touch, and it made Cary look like an idiot. Okay, a hot idiot. For the first time, I found his character very sexy. Must have been the casual clothes and sense of humor, and that he seemed like an adult for the first time. I actually liked what he brought to the table during "Nine Hours", whereas in other episodes he has irked me to no end.
The undercurrent of distrust and competitiveness between Kalinda and Blake might finally have some traction. Kalinda didn't like her life and changed it, and she did so in ways that Blake is trying to use against her. The scuttlebutt on the internet has been that we may learn something about her ambiguous sexuality this season. Perhaps that will somehow be played out in the change she made to her life. There is something so incredibly refreshing to the way Archie Panjabi plays the mysterious Kalinda, and I would have liked to see her nominated for a Golden Globe this year. Perhaps another Emmy is in her future? It's certainly deserved. She makes Kalinda's every action seem effortless.
I liked that Alicia felt the weight of having someone's life in her hands, but wasn't melodramatic about it. She couldn't wrap her head around how it would feel to know you were going to die in nine hours. It is my guess that no one in such a situation ever does, just as they don't when they are being tortured or murdered.
As they showed Carter walking toward his final stop before the gurney for execution, they had him in shackles. While he wasn't headed to death row, I saw someone I loved in them, around the waist, to the ankles, etc. It's so shocking, especially because there is nowhere for them to go. For his daughter to see him like that as her last vision of her father was heartbreaking to me, but the moment was tempered by infusing it with a song rather than subjecting us to the pain they felt with their cries.
There is one aspect of The Good Wife for which I have great respect. Despite the political topics they trudge into, they are very careful not to take any one side. The show rationally portrays the facts and issues surrounding the political statements, leaving it to the viewer to determine how they feel about the particular issue. "Nine Hours" was no exception. As Alicia spoke to the judge about the stay, she didn't say the death penalty was wrong, but that to carry out the decision, it had to be right. In my mind, I equated right with just, and I couldn't agree more.