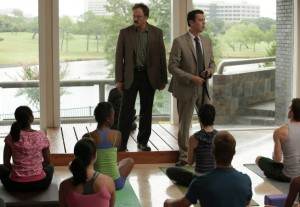 I'm not sure what's more interesting about this episode of The Good Guys: the fact that Jack and Dan wander into a massive conspiracy, or the fact that we finally get to meet Liz's oft-referenced, sometimes-maligned boyfriend Kyle.
Before we get to Kyle, though, we start with Ruiz in the shower and discovering she has a peeping tom, much to Dan's righteous indignation. He makes it his "personal mission" to get to the bottom of things. His theory is that she was followed home from her yoga class, which he proceeds to arrive at and give a ridiculous speech during. Jack wonders if Dan is too close to Ruiz and may be taking the case too seriously as a result.
Meanwhile, there's a meeting at the headquarters of Drayton Oil about a file buried by the company six years earlier. Two employees argue over what to do with it, until the company lawyer suggests they sell it to the competition and profit off the resulting downfall.
Jack is trying to probe into the peeping tom case and fend off the not-so-subtle flirting of Samantha at the same time. Thankfully, Liz arrives, trying to invite Kyle to the dinner she had planned with Jack. She's hoping the ex and the current boyfriend will get along. He tells her his evening will be "packed with sexual deviancy" without putting it in the context of the case first. He's not in as much trouble as Dan, who's out prowling around only to witness the assassination of one of the guys in the oil company meeting (not that he knows that).
He calls in his partner for help and the two survey the crime scene, only to find the dead man's phone is ringing. Dan answers it and talks to the other employee, which freaks him out and he rings up the company lawyer in a panic. The lawyer tells him not to worry. That's when we find out the lawyer is outside Liz's office – he's her boyfriend, Kyle. There is absolutely no way this can end well.
The next morning, Ruiz leaves home only to realize Dan has parked his trailer right outside her house. She is not enthused.
At work, Jack is stuck in hold limbo only to see Samantha thrust a file at him with the information he needs. She is trying way too hard to get on his good side. The file identifies Scott Wallace as the guy that called the dead man's phone. Unfortunately, Scott is close to falling victim to the assassin (NCIS: Los Angeles' Monet Mazur). When Jack and Dan arrive to find him on his deathbed, his last words reference Drayton Oil and the file. All while his killer is hiding under his bed.
Kyle finds out what's happened to his two friends and panics. It only gets worse when he finds out Jack and Dan are waiting to see him, looking for his help with the case. When Jack asks if he knows anything about the file, he's a little quick to deny it, and he leaves them in his office (which Dan proceeds to destroy) while he splits. Once Jack discovers that, he and Dan take off in pursuit, leading Dan to tell Jack that he might be too close to the case. That doesn't stop Jack from kicking in Kyle's front door, and freaking out when he realizes that Liz has moved in.
Jack is still there snooping around when Liz arrives, wondering why he's broken into "my house." When he confronts her with all the evidence, she says "Maybe because he thinks he's being framed by my crazy, jealous ex-boyfriend." She refuses to believe him, and calls Kyle, telling him what Jack just told her. (Colin Hanks gets to utilize his natural talent for Charades.) That's how Kyle realizes the person meeting him is, in fact, the assassin, and he barely escapes with his life.
After Dan interrogates the CEO of Drayton Oil, the CEO turns around and fires the assassin. Firing a professional killer always goes so well.
Waiting for Kyle, Jack tries again to convince Liz that he's not the right guy for her. That means he's there when Kyle arrives, says he's a whistleblower, and asks for Liz's help.
Kyle explains the whole story to Liz and Jack back at Liz's office (and Jack admits that he kicked in Kyle's front door). He tries to pretend that he's noble, but Jack isn't buying it. He demands that Kyle take him to where the file is hidden. Most awkward car trip ever. At least they finally put all their cards on the table.
Ruiz is having dinner with Julius, whom Dan sent over to her place to watch out for her while he's gone. He's in the bathroom when he's accosted by the peeping tom. Once Ruiz subdues the perp, they discover it's one of her yoga classmates.
Meanwhile, back at the office, Dan finds out that Scott Wallace was smothered at the hospital two hours earlier. Putting the pieces together, he sets out to rescue Kyle and Jack, who are at Kyle's ranch. Yet before Dan can get there, Drayton has broken in and started shooting. Kyle is lucky that he has very bad aim, but not that Drayton exposes that he was trying to sell the file to the highest bidder. As if that wasn't bad enough, the fired assassin turns up armed and dangerous. Drayton tries to flee in the resulting chaos, but is stopped by Dan, who's arrived outside. Jack wrestles with the assassin and eventually prevails. All's well that ends well, except for a wounded Kyle, who's hiding like a coward. Not that Liz cares.
As if that's not bad enough, Kyle decides to rub everything in Jack's face. Jack finally can't take it anymore and decks him, before going to join Ruiz, Dan, Julius and Samantha for a get-together at Ruiz's place. He's surprised when Liz arrives, telling him that Kyle told her he was hiding in the closet during the firefight, which caused her to doubt everything else he said and led to their breakup. I knew it wouldn't end well for him, but it seems to have ended pretty well for everyone else. There's a sense of camaraderie between all of our main characters at the end of this episode that hasn't existed before (since not all the characters have interacted before), and it's a nice way to conclude the action.
It's good to finally put a face to who Kyle is, and to get to see who he is and why Liz is with him. Of course, he's not exactly likeable, but at least we sort of understand why she's dating him. Besides, if he were likeable, we wouldn't be so happy when he gets his comeuppance at the end of the show. The Good Guys has invested us in rooting for Jack and Liz to reunite, and this episode dispatches with a major roadblock to that in Kyle, opening the door for them to get together. Not to mention, worrying over Liz and hating Kyle brings out a whole other side of Jack, one that Colin Hanks plays to neurotic perfection.
Next Friday, Jack gets a peek at Dan's bucket list. This ought to be interesting. I'll see you then!