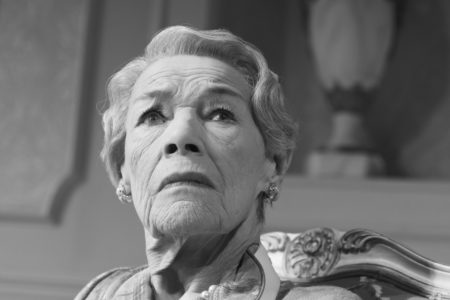 The Triple Crown of Acting is considered as the highest achievement for any actors. It is a term used to describe those who have won a competitive Academy Award, Emmy Award, and Tony Award in acting categories. As of this writing, there are twenty-three people who have achieved this feat. Some notable actors who have achieved the Triple Crown of Acting are Ingrid Bergman, Rita Moreno, Jeremy Irons, Anne Bancroft, Al Pacino, Jessica Lange, Viola Davis, and many more. Believe it or not, Meryl Streep doesn't have the Triple Crown of Acting yet. She still needs a Tony to earn this achievement (Her agent should scout for her Broadway comeback now). However, there is another actress who also needs a Tony to earn this achievement and she is one step closer as she was announced as a nominee for Broadway's highest honor this year. That actress is Glenda Jackson.
I was looking at the list of this year's Tony Award nominees to see if who is the person that could earn the Triple Crown of Acting this year. Only Glenda Jackson appears to be the next possible addition to the Triple Crown of Acting. She is currently starring in the revival of Edward Albee's play Three Tall Women. She already earned an Emmy for Elizabeth R and two Academy Awards for Women in Love and A Touch of Class. This year, Jackson is contending for a Tony Award for Best Leading Actress in a Play against Condola Rashad, Lauren Ridloff, and Amy Schumer. According to Tony pundits, Jackson is the frontrunner in her category. Also, take note that the other nominees in her category are their respective play's only nomination. Three Tall Women is currently nominated for Best Revival of a Play and other categories as well.
Jackson's co-star, Laurie Metcalf, almost achieved the Triple Crown of Acting earlier this year when she got nominated for an Academy Award for her performance in Lady Bird. She lost to Allison Janney, who now has a Tony left to achieve the Triple Crown of Acting. Metcalf previously won three Emmys for Roseanne and won a Tony last year for A Doll's House, Part 2. She is nominated again this year for her featured role in Three Tall Women.
There are many actors in the industry who has one award left to earn the Triple Crown Acting. But, for now, Glenda Jackson is the only person who is actually one step closer to earn the highest achievement for actors. Later this year will be the Primetime Emmy Awards so there might be possible additions to the list. Based on my research, there are possible Emmy contenders this year who might earn the Triple Crown of Acting if they ended up winning like Marcia Gay Harden (Code Black) and Catherine Zeta-Jones (Cocaine Godmother). Let's wait for the Tony Awards next month if Glenda Jackson will earn acting's highest achievement.