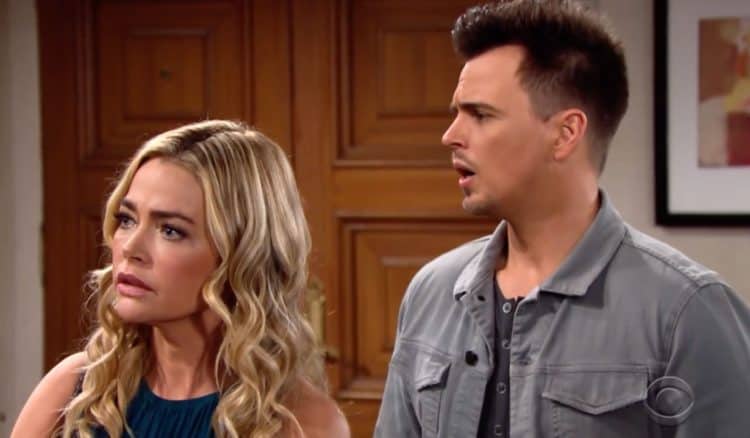 The Bold and the Beautiful fans are getting to see a lot more of Shauna now that her daughter is in town. She's been living her very best life, but that is about to change. She managed to come into town and make herself seem like a great mother despite seemingly not knowing anything about what was going on in her daughter's life, like the fact that she had a baby and gave it up for adoption to Steffy. She found out that her baby daddy, Flo's father, was the patriarch of the Logan clan, so she is actually the sister to Brooke and Donna and Katie, and the aunt to the woman whose baby she stole and gave away. Things aren't looking good for Shauna now that her daughter told the truth and everyone knows what she did, but she was enjoying that good life with the Forresters and the Logan families. And, now, she's someone we want to know more about.
Flo Scared Her Into Coming to Town
There was a very real chance that things were turning into a mess for her from the start. When Flo called her mother to tell her that she ran into her old high school boyfriend, Wyatt, she also mentioned to her mother that Wyatt and his mother, Quinn, had managed to track down his birth father, and his name is Bill Spencer. That panicked her mother given the fact that while she did not know at the time who her daughter's father was, she did sleep with Bill Spencer. That meant her daughter may have been involved in a relationship with her own half-brother. She panicked, came to town, and decided that she had to help her daughter find her birth father for no other reason than to stop her from making some big lifestyle mistakes.
She Had Fun
We don't know precisely what happened in her life when she was younger and living her life, but we know that she was not expecting to become pregnant with her daughter at any point in her life. She was not ready to have a baby, and she was clearly having a good time with multiple men around the same time. We know she doesn't seem to feel bad about that at all, which is fine since she was an unmarried woman having a good time in her life. But, that good time left her daughter without a father, and it left them in a hard situation growing up. We don't know this for certain, but we do imagine that she had a hard life being a single mother without anyone to help her raise her child emotionally, physically, or financially. That's a hard life.
She Loves the Big Life
Since learning her daughter was the daughter of a Logan, both she and Flo have been welcomed and loved by the Forrester and Logan families. They've been asked to move into the big house. They've been given wealth and fame and fortune and beautiful things, and Shauna is a big fan. She is a woman who worked very hard to ensure her daughter had a decent life, and she's never had anything handed to her. She didn't live a big life at home in Vegas, but she seems to be living one now — and she likes it. She wants her daughter to stay quiet about all the things she did to this family with the baby all because she likes this life and wants to keep it for herself. She also wants her daughter to marry Wyatt and get a bit of that Spencer money to go along with everything else they've gotten lately. It seems that while Shauna might seem like a nice person, she is anything but. She's mean, manipulative, selfish, and she's clearly looking at her life from the view of money rather than anything else, and that is not working for anyone else. She's about to lose it all, including the respect and love of her daughter for offering her advice that ultimately hurt her more than anything else. We can't say we didn't see this coming, but she might not have seen this coming herself.