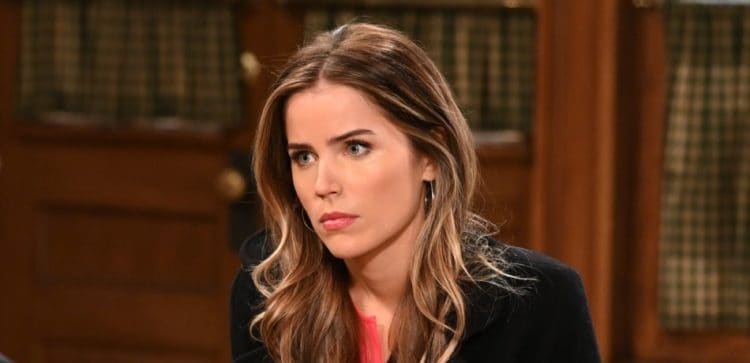 General Hospital fans are seeing a lot of Sasha these days. It was really easy to dislike her from the start considering her many lies and the way she was living her life. She showed up as the daughter Nina did not know she ever had, and she's managed to stick around as someone who is making herself at home here in Port Charles. Valentin, of course, is not big on her sticking around. He hired her to come around, be Nina's fake daughter, and then leave town with a sweet note and a 'call you later' vague type of goodbye. Except, she met Michael. She likes Nina. She made herself a bit of a life that takes her off the path of being a grifter taking on the lives of others, and she likes it here. So, now that Sasha does not appear to be going anywhere, we thought we might take another look at her and who she is as a person.
She's a Liar
We know this, of course, but it wasn't the way it seemed at first. For all of us, it seemed that there was a lot riding on her becoming the daughter of Nina who was taken from her and turned into a situation a long time ago. You see, she was in a coma after she did something that her mother did not want her to do. She was pregnant while in the coma. She never knew she gave birth to the baby she was carrying, but her mother did take the baby and send her out for adoption. When they found this out, she began searching for her daughter. It was Curtis who thought Sasha might be the girl who belonged to Nina, but we all know that Valentin did what he could to manipulate the DNA test to prove this right.
She Was A Trouble Maker
When she first came into town, she was not someone anyone liked. She didn't seem to want to get to know her mother, which was a huge disappointment for Nina. This was a woman who has always wanted a child of her own. In fact, she's never wanted anything more than she wanted a child of her own, and her new daughter was completely uninterested in spending even a small bit of time with her. She did not want anything to do with her, and that was a big thing. She was horrible to her. She also tried to take her new sister's boyfriend. She also tried to do things that would make her miserable, and then she was there when her sister was murdered. She bailed because she was afraid of being in even more trouble.
She's Valentin's Puppet
He went to get her, and he forced her to come back. He needed her to come back because she was the only way he could salvage his marriage to Nina. She might not be in love with him, but he needs her and he needs her to stay married to him. So, he needed to keep things going. While he's ready for her to get going now that she's done her part to get him to stay married to Nina, she's decided she likes her new life. She's not doing what he wants, and he's not pleased by any of that.
She's Changing
It might be in record time, too. She's come back from the life she lived when she first came here to make some big changes in her own mind. She's not being a troublemaker any longer. She's going the nice things, making nice changes in her life, and trying to get on board with being a good person. She's doing a decent job of it, too, and we like to see her changes. We aren't sure she can keep this up, of course, but we do know that she has a chance to do things in her own mind that might work out better for everyone involved. She is someone who has more to offer than we thought she did, but she is not going to go out without getting what she wants from this new life she is living.