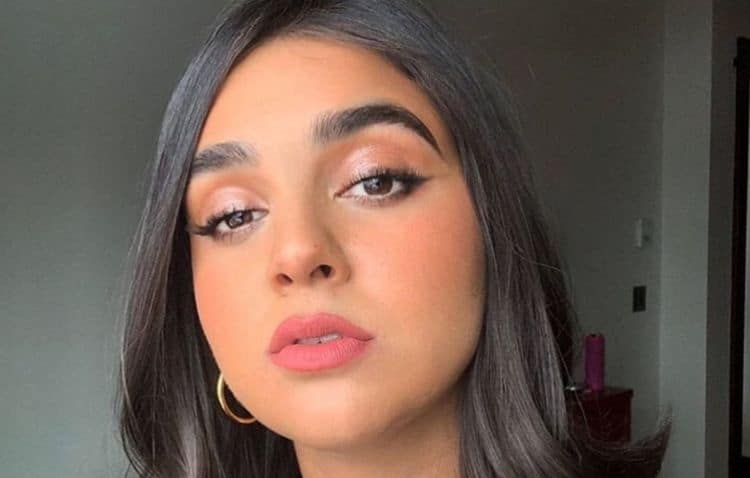 Geraldine Viswanathan has been in the entertainment industry for a couple of years, but she is already being described as someone to watch. Her skills were recognized at an early age when her mother's friend noticed like Geraldine could not stop talking. Now her career has led to a beautiful love life; she co-starred with Miles Robbins in "Blockers," and they began dating, resulting in Geraldine also getting to meet her role model, Susan Sarandon, Mile's mother. Besides, Geraldine's career taking off has also made her mother remember her passion for the arts, and now Anja is helping her friend's children explore their talents. Get to learn more about Geraldine through the facts detailed below.
1. "Blockers" was her first successful audition
In 2016, Geraldine was ready to make her dream come true, and that meant trying her luck during the pilot season. She kept her hope up auditioning for various roles and self-taping from Sydney for three years. Unfortunately, she was never successful until she sent a tape to audition for "Blockers." It only took the casting directors a week to decide she was the ideal candidate, and they called her telling her to go to Los Angeles the next day.
2. She did not tell anyone she had booked a role in "Blockers."
With an experience of bad luck in her auditions, Geraldine could not dare to be overly optimistic, thus even telling her close friends that she had booked a role in a film was out of the question. She feared that anything could happen, and she would end up not being cast in it as per the interview she did with ABC. It was after she was on set that the actress was sure that she would be in the film, thus found the courage to tell her friends the good news.
3. She is not a "Harry Potter" fan
When Geraldine heard that Daniel Radcliffe would be starring in "Miracle Workers," she felt she could not measure up to what was expected of her. Consequently, she was content even if they did not cast her alongside the renowned star who made a name for himself on "Harry Potter." Although the actress was feeling intimidated by Daniel's prowess, she still told him that she only watched the first movie when she was eight and did not even finish because she was scared. She instead read the books but is still not enthusiastic about the "Harry Potter" series.
4. She was determined to be an actress
When Geraldine said that life is good and she has no complaints, it is because she has achieved her goal. For a long time, she wanted to be an actress, and being shortlisted for the Heath Ledger scholarship in 2015 helped to assure her that she was meant to be on stage. She, therefore, applied for her six-month visa in Sydney and moved to the United States since that was the only place her career would take off. She went alone, and although her mother was anxious, Geraldine's family had lived in Las Vegas for three months when she was 15; hence it was not a new experience.
5. Her mother comes from an artistic family
Geraldine's mother, Anja, also wanted to be an actress, but then after getting married and having children, it became challenging. However, she still was involved in shows such as "Annie" and "Westside Story." Anja had an agent, but her accent led to her always being cast as German. Anja's father is also involved in the film industry since he makes documentaries and was a ballet dancer.
6. How she entered the acting industry
Born to a mother who was also interested in acting, Geraldine found herself also being drawn to the craft. While in kindergarten, she began acting, and at five years, the actress was cast in a Kodak commercial. When Geraldine was six, her mother's friend suggested to Anja that Geraldine's bubbly personality could come in handy in a performing arts school. Geraldine, therefore, went to Hunter School of the Performing Arts and told a story about the zoo for her audition and was accepted immediately.
7. Why she felt she had to get out of Australia to become an actress
Geraldine agrees with Charlotte Nicdao that most Australians leave Australia in search of work because there are no opportunities there. Geraldine had been auditioning in Australia when she was 15, but every time she was rejected on the basis that she could not play Australian. The actress was frustrated that she could not get any roles for an Australian, yet she had the accent and was proudly Australian. Her only option was, therefore, to look for a chance elsewhere, as she told Character Media.
8. Her parents encouraged her to drop out of college
The actress had followed her teachers' advice to study and become a diplomat; therefore she enrolled for international studies and media degree. However, her parents had already recognized the acting talent in Geraldine when she was 15; thus, they encouraged her to drop out and become an actor.
9. Her most challenging role
Geraldine was lucky to land her first lead role in "Hala" but it became the most challenging to shoot as per the interview with The Last Magazine. The character is very different from Geraldine thus the actress had to understand Hala's motivation and desires. Consequently, Geraldine had to keep taking to Minhal Baig since it was based on her life; therefore, even when Geraldine felt Hala should not be in a certain way, Minhal insisted she should act as the character had been written. All the same, it was quite a rewarding experience for Geraldine to tell such a coming of age story as she calls it.
10. Her inspiration to do comedy
When Geraldine was 8, she had watched "Friends" so many times that she thought America was like what she saw in the comedy. She, therefore, joked that she was surprised to see New York was different from what she had seen in the show. The actress hence was attracted to comedy and even joined a sketch group and did standup comedy. "Blockers" was her first comedy show; although she felt she could not measure up to legends like Leslie Mann, she convinced herself she was just as good.
Tell us what's wrong with this post? How could we improve it? :)
Let us improve this post!