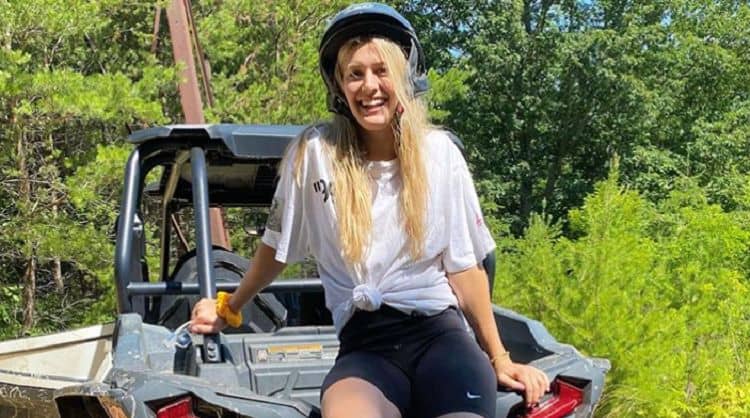 Eugenie 'Genie' Bouchard has been playing tennis for almost all of her life. Although she doesn't have the most impressive record as a professional player, he work ethic and competitive nature have made her the type of player that her opponents can never take lightly. Bouchard is known for her aggressive playing style and she's never afraid to take a risk. Over the course of her career, she has played in several Grand Slam tournaments, and she won two titles: one as a singles player and one as a doubles player. She is best-known for being the first Canadian player to reach the finals in Wimbledon. On top of that, good looks and modelesque pictures have also gotten her lots of attention. Keep reading for 10 things you didn't know about Genie Bouchard.
1. She's A Serena Williams Fan
Serena Williams is arguably one of the greatest athletes of all time. Even her competition can't help but marvel at the things she's capable of doing on the court. Genie is a fan of Serena's strength and athleticism. As someone who has played against Williams in the past, Genie would definitely be able to attest to how great Serena really is.
2. Ryan Reynolds Is Her Celebrity Crush
Genie may be a celebrity herself, but that doesn't mean she can't have a celebrity crush of her own. During an interview with Flare, she revealed that Ryan Reynolds is one of her celebrity crushes. She also expressed that she has a crush on fellow Canadian, Justin Bieber.
3. She's A Twin
Genie Bouchard has a twin sister named Beatrice. Although they are not identical, Beatrice and Genie are both very good looking and have gotten lots of praise for their looks. However, instead of being a competitive athlete like her sister, Beatrice is a model who has become very popular on social media.
4. She Knows Exactly What She'd Be Doing If She Wasn't A Tennis Player
Genie has been playing tennis for so long that it's hard to imagine her possibly doing anything else. But she knows exactly what she would be doing if she weren't a tennis pro. As part of her interview with Flare, she shared that she would've been an air traffic controller.
5. She's Very Adventurous
Even though tennis takes up most of her time, Genie has other interest and she likes to enjoy them as much as she can. She is a very adventurous person who isn't afraid to take risks and try new things. Some of the activities she likes includes off roading, horseback riding, and hiking.
6. Her Worst Date Ended In Food Poisoning
If you've been in the dating game long enough, you've probably had your fair share of awkward dates. However, the story of Genie's worst date is enough to give even the most confident person a case of secondhand embarrassment. She said, "I went on a date with a guy once, we went to the beach. He had food poisoning and he ran to the bathroom to throw up every 20 minutes." The date was going so poorly that she eventually asked to be dropped off at home.
7. She Likes To Travel
Genie was born in Canada but spent a good portion of her life living in the United States once her tennis training got more intense. As someone who has lived in two countries and gotten to travel the world due to her job and she loves going to new places. Some of the countries she's visited include France and Ireland.
8. She Doesn't Care What Critics Say
Throughout her career, Genie has had to deal with lots of criticism. Whether for her play or her demeanor, people always seem to have something negative to say about her. However, she refuses to lead it bother her. She has reached a point in her life both personally and professionally where she simply no longer cares what critics think.
9. She And Her Siblings Were Named After Members Of The Royal Family
Genie and her family don't appear to have any blood connection to the royal family, but they're connected in another way. She and her siblings, Beatrice, Charlotte, and William were all named after members of the royal family. Genie's name comes from Princess Eugenie.
10. Her Father Tried To Claim 10% Of Her Earnings
When Genie was just 9-years-old, her father set up a limited partnership which he planned to use as a way to allow the money he put into Genie's tennis training to be a tax dedication. He and the other 'investors' put money into Genie's career and planned to gain a percentage of her future earnings. This agreement was later challenged and overturned in court because the judge ruled that a 9-year-old could not have possibly agreed to give away future earnings. Despite this strange incident, Genie and her father seem to have a good relationship.
Tell us what's wrong with this post? How could we improve it? :)
Let us improve this post!