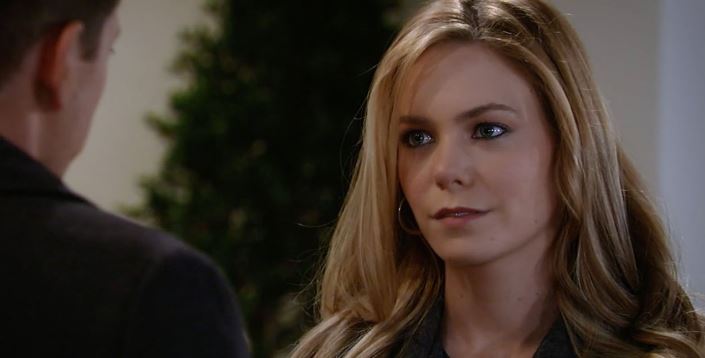 General Hospital fans are sure that there will always be a day when some people end up together you just don't care for. We know this, and we live this, and we get this. There are always couples coming and going around here, and you cannot love them all. You can, however, dislike some of them. There are so many love triangles, love situations, and love issues that we cannot keep up with all of them. What we can do, however, is sit in the comfort of our own homes and judge the ones we don't like all that much. 2018 was a big year for bad couples, and we cannot help but reflect on some of the worst from the year. They may not be the worst couples we've ever seen get together around Port Charles, but they were our least favorite this year. What do you think about our list?
Sam and Drew
May we preface this with a statement about how much we love them both, and we always liked them when they were married and he was Jason? And we really like him as Drew. We do not, however, like him with Sam when we know darn well that Jason is right there all kinds of ready and willing to be with her as a person. There is just something so iconic, romantic, and totally wonderful about JaSam, and we want to see them together all the time. When Drew was Drew and she chose to be married to him instead of Jason, we all knew it would never work — and we were all correct. It wasn't there. The chemistry was gone, the love wasn't the same, and the situation was all wrong for us. And that's why we love this new situation they have going on with him not with her and with her thinking of Jason all the time.
Nelle and Michael
Let's just go ahead and speak the truth. We all love the dirty, disgusting, horrible things that Nelle brought to Port Charles. She was phenomenal in terms of the story lines and the drama, but she was too much for poor Michael. While he is a good young man with a good head on his shoulders, a good heart, and a lot of good qualities who was just trying to see the good in a woman who he felt was being poorly treated by his own family, she was a manipulative liar who did the worst things to him — and we hate her. She was awful, horrible, no good, and absolutely not the kind of person that we wanted to see him with in any kind of capacity. She hurt him, continued to hurt him, manipulated him, got him to impregnate her, and then took his son from him. And we are all horrified for him, and we hope that he can eventually find love with someone who is kind and good and honest in the same way that he is as a person.
Ava and Griffin
So, there's something about him we don't know that we like, but we do like him. He's too nice of a guy for someone like Ava. She's a horrible mess, as much as we love the specific kind of mess that she brings to the show. Her specific form of disaster is our favorite in many instances, but she's not good for him. We hated seeing her with him, and we wanted to see him with someone nicer. While we can all agree that someone like Kiki is better than Ava, we still feel a little grossed out by the fact that he was in love with her mother and then turned around and slept with her. We lost some serious respect for him at that point in time, and we can't help but wonder why he bothered. Fans were turned off by that, and we lost some of the good feelings we had for him, making us wonder if he was better off with Ava after all. Because a man who can sleep with his girlfriend's daughter is not the kind of man who is a good one we want to cheer for.
Tell us what's wrong with this post? How could we improve it? :)
Let us improve this post!