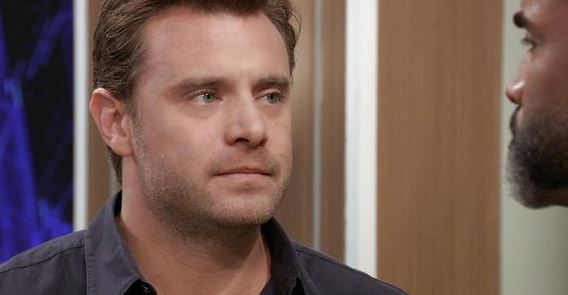 General Hospital fans have had the displeasure of learning so much about Shiloh in the past few months. He is a man we are certain cannot function without his life going his way. He is a man who cannot make things happen in his own life without other people to sit around and make them more obvious. He is not a man who can make his life change for the better without hurting other people in the meantime, and he is certainly not a man who can live his life to the fullest at any capacity. He has to hurt others. He isn't sure how to live a good and honest life. He is not sure what to expect, how to change, or what to do. He's a man who has a plan, and he is a man we can see growing more and more desperate by the hour. Things are not going his way, and he cannot stand it.
Franco is a man who has some very interesting situations in his life on a regular basis. He is someone who has a very important job, but he is also someone who has some very interesting dreams and visions. He's not sure how to make these out, and what do to with the many things he's learned over the year, and he is not sure how to function with the way things are going in his life these days. But, he is going to turn out to be very thankful and grateful to Schott, and that's a nice thing. Sasha, on the other hand, has decided to make a friend — and she's chosen Maxie. She's going to confide in her, and we have a feeling she might say a thing or two about Michael when she does.
What's Happening on General Hospital
Cameron's friends want to make his life a little easier, West Coast. But his day is about to get a whole lot worse anyway.
A dramatic, new #GH starts RIGHT NOW on ABC! @LiptonWilliam pic.twitter.com/zq1Ffymyar

— General Hospital (@GeneralHospital) August 6, 2019
How do we feel about this?
What's Next on General Hospital
"If you ever want to see [Sam] alive again, you're going to do exactly as I tell you." #GH pic.twitter.com/RTfqmlc8Li

— General Hospital (@GeneralHospital) August 5, 2019
Is there ever a time in Port Charles when Nina is not worried about at least something? She is a woman who is regularly unhappy with her life and the way things are going for herself, and she's got so much to offer in terms of everything else. She's not going to sit back and let things happen to her, but she will worry about all the things that could go wrong, the many things that do go right, and the fact that her life could change in an instant. We don't know what's got her worrying right now, but we do know that it's not good for her. She's having more than a few issues, and we get it. We know that she is struggling, and we know that she has a lot on her plate. But, for now, we also know that she's got to figure things out for herself.
Sam is not in a good place. She's in the mood to argue, and she is happy to take out this behavior on anyone who comes in her way. She's not willing to compromise. She's not willing to see things from anyone else's point of view, and she's not willing to bring on a nice mood at the moment. The truth is that we don't really see the problem with it. We get where she is coming from in the moment, and we appreciate her situation and where it's led her to this point. Elizabeth, on the other hand, is going to receive a phone call today that alarms her, but we have no idea what it might entail.
Stay tuned for more General Hospital and be sure to check out TVOvermind daily for the latest General Hospital spoilers, news, and updates.