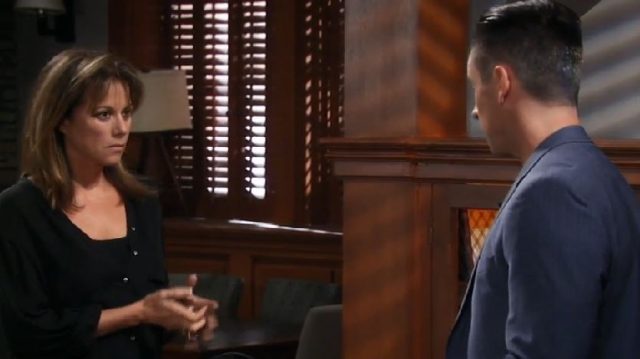 Sonny's worries over Morgan's reliance on Kiki seem to become justified on an all-new General Hospital. We all know that Sonny is never one to back down or shy away from speaking his mind, especially when he feels that someone else is incorrect. He feels that Morgan needs to back down and stop relying on Kiki so much. The reliance is not healthy, and he's worried. He's already spoken up, but his words of warning seems to have no effect on Kiki or on Morgan, and he's going to be saying "I told you so," before much longer. It turns out that Morgan and Dillon are about to have a showdown, and Kiki is forced to intervene in a situation she has nothing to do with. Will she come out all right, or will Morgan's dependence only get worse?
Rachel is looking for a way to make things right, so she vows to help Finn. Of course, we know that situations of this manner never end well, and we cannot help but wonder if her insistence on helping is actually helpful or if it is something that will only make things worse in the long run. We don't know for certain, but we do know that everyone is going to be a little surprised when they find out these two are working together.
There was a time when Franco and Nina might have thought that they'd end up back together. There was certainly a time when they wanted to save their relationship and make things works, and there was even a time when we thought it might be entirely possible for them to do just that. That time is over, however, and they are certainly not in a place that is going to allow them to heal their wounds. Now they are over for good, and it appears that they are going to continue arguing about things even though they've gone their separate ways. What this says to us is that perhaps they are not really over if they're still fighting, and perhaps they have every intention of getting back together at some point. Who knows?