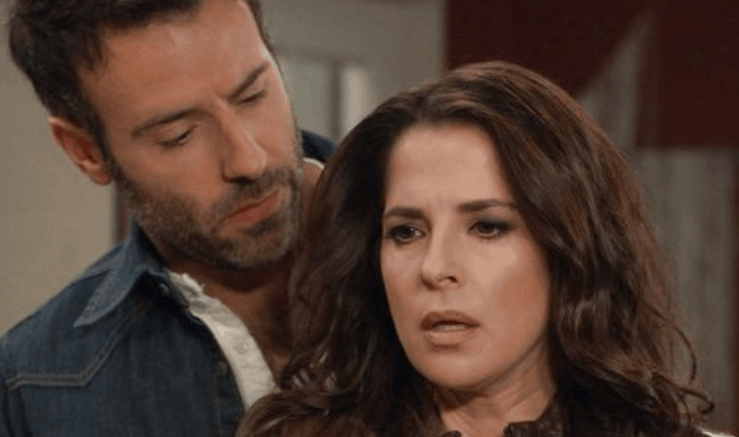 General Hospital fans love Jason. We have always loved Jason. He is the man who makes us all feel good. He is the man who make us all realize that things will turn out for the best. He is the man who might be dangerous and scary, but he is kind and caring. And he will always be there for the people who love him and he loves in return. There is nothing he will not do to help those who are important to him, and Kristina is important to him. She is the daughter of his best friend. She is the sister of his own ex-wife and the love of his life. And now he's found out that Brad is lying to him because he is part of this situation with DoD, and Jason is not amused. He's hindered their investigation. He's put them in a situation, and we feel that Brad might want to watch his back.
If there is one thing we should all take into consideration about Jason, it's that he does not deal in betrayal. He will not forgive you. He will not rest until you pay for that. He will not allow you to lie to him and then go on with your life like nothing happened. He will take you down, and he will make sure you pay. Part of us wonders if this will be the moment in which we all realize that he is not going to have a lot more to say about what happens to his family, and it might just be the moment we all realize that his baby is not his baby and that it is Michael's baby. Now that Jason is on his case, we have to wonder if this might be the beginning of that end.
What's Happening on General Hospital
Brad is really enjoying the time he's been spending at Dawn of Day, West Coast. But what does Lucas have to say about Shiloh's teachings?#GH is brand-new and STARTS NOW on ABC! @RyanCarnes1 pic.twitter.com/3ExQebza3i

— General Hospital (@GeneralHospital) April 16, 2019
Is it just us, or do you also feel that this might be the beginning of the end of the happy little life that Brad's been living?
What's Next on General Hospital
"That is how it's done." #GH pic.twitter.com/haO0qt6zSv

— General Hospital (@GeneralHospital) April 15, 2019
Sonny is working hard to save his daughter, and he will stop at nothing to make sure she is getting the help she needs. She's brainwashed. She's miserable. She is not herself. He is a mess, her mother is a mess, and their entire family is a mess worrying about her and trying to keep her safe while also trying to fix her mind to realize what a mess she's in. But, he's also worried about Jason, who is currently working hard to ensure that he can help his love. Sam is in the middle of all of this, and she's in grave danger every step of the way. Jason might just be acting a little bit more paranoid that usual, but he's only just gotten back from being gone all these years. He's only just gotten Sam back into his life, and he is just not willing to lose her at this point. He's not willing to be without her, and he worries.
Sonny will caution him. He cannot put his emotions ahead of his instinct or his mission. Sonny cannot worry about yet another person in his life, but he is worried for his family, his friends, and those around him. He is worried they will not make the decisions that need to be made, and he's worried they cannot take down DoD. He's mostly worried that his daughter will be in danger the rest of her life if they cannot seem to fix these problems. He's worried, and that's showing off in a way that is hurting him.
Stay tuned for more General Hospital and be sure to check out TVOvermind daily for the latest General Hospital spoilers, news, and updates.
Tell us what's wrong with this post? How could we improve it? :)
Let us improve this post!