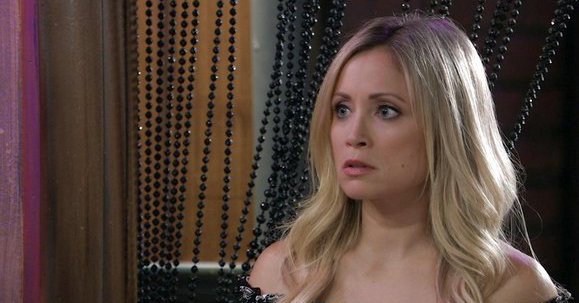 General Hospital fans are SPENT. And we say that with vengeance. We are tired. We are so emotionally drained after watching everything during the past week, and we cannot even handle how much we mean that. For one, we just don't know how to focus on anything other than the fact that Carly and Sonny had their baby and there is so much going on. Sweet Donna is born. She is early, which is never good. But she is here, and she is going to survive, and we think that she will be all right. She will be a happy, healthy child in all the ways that matter if we had to guess, and that's going to be a beautiful change for them — we hope. And then there is Lulu. She knows the truth, but what do we do about that? Will she come out to Nina and tell her that Sasha is not her daughter? Will she do that to herself and to Valentin and to Sasha?
She's about to marry this man, and we are not sure Lulu can let her go through with this. Then there is the fact that there are some other things going on, too. For one, Jax is adamant that Nina not marry this man. But she's in her own world doing her own things being her own happy self, and she's not in the market to hear anyone making plans to ruin her wedding in any capacity. She's not that person, and she's not about to live that life. She's got things to do with herself, and she's doing them. She's getting married, but only if Lulu decides not to come forward with what she knows, and we aren't sure she won't do that. It could go either way.
What's Happening on General Hospital
The #GH softball collection is here! 🥎 Pick your team now in the ABC Shop. CLICK TO BUY: https://t.co/gEeHTjDy2Y pic.twitter.com/xKi06KyQW4

— General Hospital (@GeneralHospital) October 4, 2019
Who doesn't love a good softball collection?
What's Next on General Hospital
"Nina must never find out that you are not really her daughter." #GH pic.twitter.com/Myi14Qz0Is

— General Hospital (@GeneralHospital) October 2, 2019
Lulu is not in a good place right now. She's got this secret in her life that is going to drive her insane if she cannot find a way to make it better, and she's not sure what to do with herself. She's struggling hard right now, and that's all there is to it. There is nothing that will work for anyone in the moment, and we cannot figure out how to make things feel a little bit more exciting for everyone involved. There is nothing new happening in her life that will change how she feels about this, but we don't know if she will come out and share what she's learned. Sasha is not the daughter Nina thought she had so many years ago. She is playing a part, and it's Valentin who asked her to play this part.
He is deceiving his former and almost once again wife, and Lulu knows it. But what will she do with this information? She and Nina aren't exactly the very best of friends, and she's got a history with Valentin that might make it look as if she is making this up to hurt him when he is at his happiest. But, that's not all. Jax is proud of his daughter, and so are we. She might not be entirely herself in the moment, but she is making some serious progress. She's making some strides. She's doing what she can to change her own life and make it better, and she's giving her all to her life as best she can. This might make a difference.
Stay tuned for more General Hospital and be sure to check out TVOvermind daily for the latest General Hospital spoilers, news, and updates.