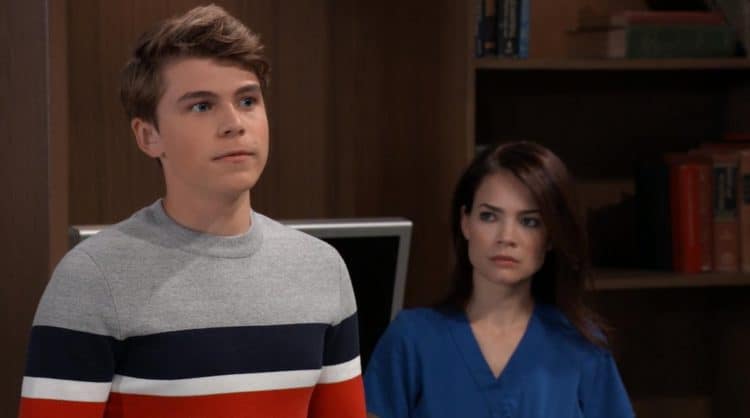 General Hospital fans won't be shocked to find Valentin is not going to have any of what is going on. He's worked so hard to get what he wants in his life, and he's not getting any of it. Remember the days when he was married to Nina only because he needed a mother for Charlotte and she was someone who wanted to have a baby desperately, and he knew she'd do a good job of it? Remember when he was so infatuated with Anna that he didn't even care how much he hurt Nina or how she felt about things? Remember when she was nothing to him but a wife and a convenience package that helped him out on the side and that was all? She was nothing more to him at that point or any other point, and that's all there was to it. Now she's more than that. He loves her.
But, he lied to her, and his secret is out. Laura and Lulu are making his life miserable, and things are not going according to his plan. Lulu is having lunch with Charlotte, and the more time she spends with her own biological daughter, the more she wants to make things more permanent, and she might just have a way to do that if she can get this situation under control. We think she might speak up, tell the truth, and make things very awkward and uncomfortable for all involved. Valentin might want to go out of his way to watch his back. He lied to Nina about Sasha, she's still lying to her about being her daughter, and there are so many people who now know the truth about all of this. It's coming out faster than people think, and the repercussions are going to be shocking.
What's Happening on General Hospital
Contrary to Valentin's opinion… @japastu is having the best week ever. #GH pic.twitter.com/4ezYJTU6LE

— General Hospital (@GeneralHospital) October 9, 2019
We'd say this must be a pretty exciting moment in his life, right?
What's Next on General Hospital
"Is it true, Valentin?" #GH pic.twitter.com/67dnEdWf1W

— General Hospital (@GeneralHospital) October 9, 2019
Nina is not sure what to do. This is a big day for her, and she's going to be thrown for a total loop. We cannot decide how this will go, what is happening, or what is going to be the situation, but we do know that there is something that will work for everyone. There is a situation that will make everyone feel good about their lives, and this is it. This is the moment that so many people have been waiting for. We think this is the moment that she is going to find out all of the many truths that have been such a part of her life for a while now, and she will not be happy when she realizes just how much has gone on behind her back without her knowledge. This may prove too much for her, but we know that she will get through it.
We know that Joss is feeling good about life. It has been a rough year for her, but she's got something to look forward to, and she's happy about that. She's looking at the future like it might be a good thing for her, and we love that. We love that she has so much going for her, and we love that she is in such a good place. For now, though, we have to feel good about other things, too. She's going to make some big changes in her life, and we cannot wait to see those.
Stay tuned for more General Hospital and be sure to check out TVOvermind daily for the latest General Hospital spoilers, news, and updates.