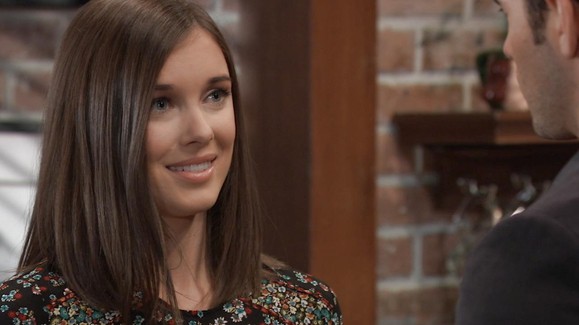 General Hospital fans are not going to be too shocked about the discreet exit that Nelle made, but we also know that she's got a lot more up her sleeve. She is behind so many of the unfortunate things that happened in the lives of one family specifically, but she's also the mastermind behind a lot more than just that, too. She's making her exit so that no one seems to notice, but they will notice and they will track her down and figure this out before much longer. They are all tired of her, and we get that. It's not hard to understand where they are all coming from and what she is up to, but it's hard for us to figure out specifically what her grand plan is and how she is planning on working things out in her own mind. She's got a lot going on for her.
Sonny has a warning to offer, and he's about done playing games. He's not having his family put in danger another moment and we get that. He's tired of this, he's not playing this game anymore, and he's not having another moment that looks like this one. He's tired of it and he's done, and he's in a place where his anger is getting the best of him, and we all know what happens when Sonny's anger gets the best of him. It's not good, and it's dangerous. We cannot wait to see him tear down the people responsible for all that is going on in his life right now, and it's too much for all of us. We like it, and it's all going to come to a head before much longer if we had to guess that things were going this way.
What's Happening on General Hospital
Taggert and Curtis want to lay all of their cards on the table. Will Jordan do the same? @donnellturner1#GH is brand-new and STARTS NOW on ABC! @realandrews pic.twitter.com/r1ROvOcBO3

— General Hospital (@GeneralHospital) February 18, 2020
This is going to be interesting.
What's Next on General Hospital
"I'm all ears." #GH pic.twitter.com/OS2u1Ok0m9

— General Hospital (@GeneralHospital) February 18, 2020
Curtis is a man who just made sure to confront Jordan about all that is going on around here, and she's not entirely sure she likes where he was going with this. We hear that today is going to be a bit of a different story for him as he was confronting her yesterday and today he is being put on serious notice about something. We don't know if this is her telling him that he has to get his life together and trust her when she says she feels that something is wrong, or if it's his boss in his life trying to change all that is going on in that aspect of things. We aren't sure, but we do know that he's going to get something that puts him on notice, and we can expect that this is not going to go over well in his life at all.
Meanwhile, speaking of Jordan, she's going to find that there is an old enemy who wants to speak with her. They will come in contact today, though we do not know how or why. This might help her gain some insight as to what is going on and how this will change the many things that are happening in her life right now. Jason, on the other hand, has a few words of wisdom of his own. You might call it his opinion, but you might call it something else. Either way, he's making sure everyone knows right where he stands and how he feels about this as things are going on in his life. He's not keeping anything to himself.
Stay tuned for more General Hospital and be sure to check out TVOvermind daily for the latest General Hospital spoilers, news, and updates.