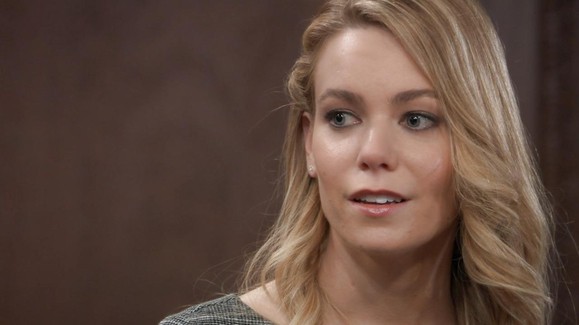 General Hospital fans are taking in a lot right now. It's a new week, but it's not a new week filled with answers and speculation and news about what happened last week. Before Flashback Friday last week, we ended with a surprise wedding, an engagement, some seriously bad news about Mike and Sonny and his personal choices, and we learned that there is just nothing we can do to find out who gets to have this little boy that Nelle gave away and lied to Michael about. She put on the performance of her life, and we don't know how this custody hearing will end. We won't find out for some time, either. General Hospital has no more new episodes to show us, which means we are sitting here in limbo until the show can return to the studio and the cast and crew can return to work. We simply will not find out what is happening for some time now, and that's tough to deal with.
Now this week is a new one. It's a week of flashbacks, and it's the first of an undetermined number of theme weeks for the show. This first one is very appropriate for the show since it is about a hospital more than anything else. The biggest event of the year in Port Charles is always the Nurses' Ball, and this is a week dedicated to Nurses' Ball episodes of all types. The first, the one we will see today, is from 2014. It is the episode in which the ball opens up in a grand fashion when there is a big interruption, the introduction is not as planned, and there is a huge proposal. With that in mind, we wanted to take a look back at some of the biggest ball surprises in the history of the show. There are so many, after all.
The Guest Appearances
We are sad that there will not be a 2020 Nurse's Ball. But, it was not filmed prior to the show shutting down for the time being amid the COVID-19 pandemic. This is why we will see moments from the past, and this is so good. There have been so many guest stars throughout the years that have graced the red carpet at the ball. From the beautiful Chandra Wilson from "Grey's Anatomy," to fan-favorite "Bachelor" alum Nick Viall to Maria Lopez and his daughter to Carla Hall to so many other famous faces, there is nothing that we don't love about this. The people who show up here to work the red carpet are always some of the most exciting.
The 1994 Wardrobe Malfunction
We'd be remiss to forgo mentioning this iconic moment. This happened back in 1995 during the ball, and it was a huge thing. You see, she's the MC of the show. She's the center of attention every single time, and she really did it up this year. She was changing from one dress to another in the backstage area, but someone accidentally opened the curtain that separated her room from the stage, and everyone was able to see her in her state of undress. She was in the middle of taking her dress off, so she was there in her underpants for everyone to see. It was a shocking moment for her, but it was one that the rest of the attendees thought was quite humorous. Her embarrassment was through the roof, but no one else seemed to mind that this happened to her.
The Proposal
This is a moment that was sweet regardless, but it sticks out to us now that things are not so happy for this couple. In 2015, the proposal we mentioned happened. It was at the ball that Brad asked Lucas to be his husband, and they were nothing but happy from that moment on. But, this did not last. They eventually went on to have their baby, adopted from Willow, and the baby died suddenly and quickly. Brad new, Lucas did not, but Brad made a deal with the devil herself by trading Nelle her live baby for his dead baby so that he could have a baby and Michael would think his own baby died. Those were happier times in 2015.
Tell us what's wrong with this post? How could we improve it? :)
Let us improve this post!