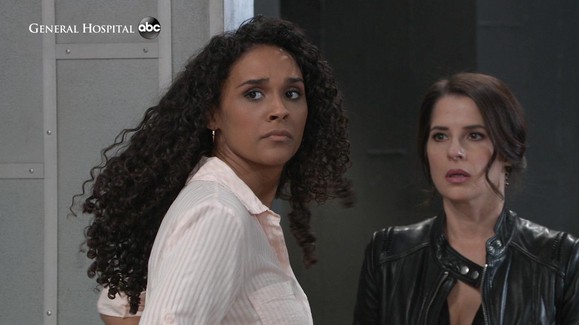 General Hospital fans know that Jordan had to do what she had to do. She had to mislead Sam and get her to go the wrong direction. We all knew it would come to this last week when things were taking a turn for her and she had to ask Sam to back down and leave things be. It's a situation that might not be ideal, but Jordan knows she has to do what she has to do. She had to lie to her friend to get her to back down and move on, but that did not mean she liked doing it or that she was happy about any of this. She's in a situation right now where she's got a lot more to deal with than she has been letting on, but we don't know how much more of this she can handle while she tries to find the truth.
Sonny got some pretty terrible news, but that doesn't mean he is going to slow down with anything he has going on right now. He knows this is not currently going his way, but he is not sure how to focus on anything other than getting things taken care of and handled on his own. He has a lot going on, but he has to focus on getting it all right. Meanwhile, Curtis is not someone who is often taken aback, but he was on Monday's new show. He was shocked, and he didn't know what to say. That is not a typical situation for him, so we do worry and we do figure that there are some things that are not going to end up going very well for any of us. We know this is a thing, but when will it all end for them?
What's Happening on General Hospital
Carly wants Michael to do everything possible to cut Nelle out of Wiley's life, West Coast. And she means everything…
An exciting, new #GH starts RIGHT NOW on ABC! @lldubs pic.twitter.com/ZZ8HDxrhW4

— General Hospital (@GeneralHospital) March 20, 2020
She's in fierce mom mode.
What's Next on General Hospital
"You're a dirty cop now. Cyrus has you right where he wants you." #GH pic.twitter.com/Lrp84mUMjZ

— General Hospital (@GeneralHospital) March 23, 2020
Curtis and Jordan will probably never be the same again. She's got her own issues to face in life, and she's not going to have much else to say about what she's been up to. She's not happy with Curtis for so many reasons, and he is not happy with her for so many of the same. But, we also have to focus on the fact that so many of us are going to have something else to do and to live with in our lives. There's a lot we don't know about what's going on, but we do know that he is going to confront his wife about something. We have to assume it has to do with Sam, but we could be wrong. Either way, we do not see them doing anything healthy to make this all right in their lives. We do not see them doing the right things or making the right choices right now.
Then there is Brooke Lynn, who is not happy about something. Well, she's not happy about anything, ever, really and we have to focus on the fact that she's got some big issues to fill and some big problems to handle in her life. She's not a happy person right now, and that's all we can say about that. But we do know that she's going to retaliate against someone. She's a mess, but she's not going to sit back and let that stop her from doing anything in her life. Willow is speculating a lot right now, and we don't know where she will go with any of this, but we know things are changing for her.
Stay tuned for more General Hospital and be sure to check out TVOvermind daily for the latest General Hospital spoilers, news, and updates.