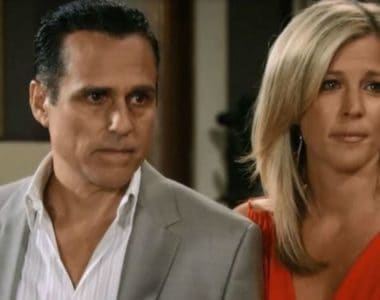 General Hospital fans see a lot of Carly and Sonny right now, and they seem to be making things work for them. There has been no official word from either camp on whether or not they're getting back together, but that's not stopping them from being very intimate and familiar with one another. They have been spending more time together since the Ball, and now it seems we might see a reunion of these two.
We saw yesterday that Josslyn is not happy about this, but Carly seems unaffected by her daughter's ideas. She knows her son will be happy to see his mom and dad back together, but will he be able to keep them from being upset with him and his newfound relationship with Nelle? He knows how they feel about her, yet he's allowing himself to grow closer and closer to her every day.
Why can't he seem to put aside his own personal feelings and do the right thing in this situation? There's a lot going for him right now, but it doesn't appear they can handle what it is if he insists on bring Nelle into the family. And she can't possibly want to spend more time with him and his family after all she did to them, can she? Will she call this quits before it goes any farther after all that? Will she allow him to allow her to cause any more hurt and pain to his family? There's so much pain already, will Calry hurt her daughter?