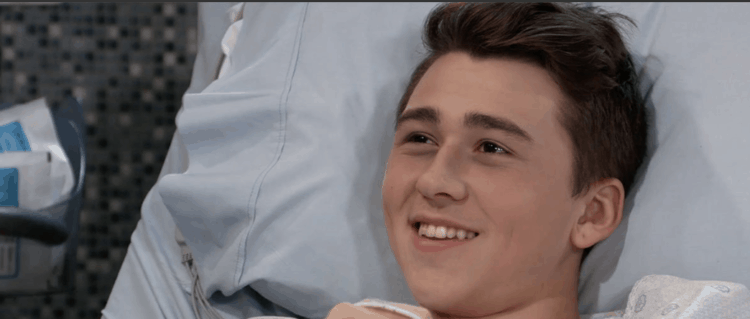 General Hospital fans are not sure what is going on with Dante. He is a mess, and we think that he is in a bad place. We think he's been brainwashed, but maybe he has not been. Maybe he is in trouble, he knows it, and he is doing anything he can to fight for his life and get himself home to be with his friends and family. We aren't sure, but he did have a gun to his father's head, and he did shoot. We think, and we could be wrong, though, that he was not aiming to kill. He might want people to think he was, but we don't think he was. And we also know that Lulu is going to have some major issues. She's missing her husband, and she's talking to Maxie about it. She's upset, and she has no idea what is going on with her father-in-law or her husband to the extent it's been going on.
Michael and Carly took Mike out for some ribs, but it turns out he was not in the mood for that kind of day. He was having a good time, enjoying himself, and his company, and he had a major meltdown. His health is poor, and he is a mess. They handled his issues well, if you ask us, but we don't know that he can handle his life if he found out what was going on with Sonny or with Dante, and we think that there is a lot more going on that we don't know about. We don't know if there is anything else we can do to make this situation better, but we do think that Mike is beginning to feel he is a burden in some ways.
What's Happening on General Hospital
Love playing with the amazing @MauraWest https://t.co/PWvBigqUCt

— Laura Wright (@lldubs) March 19, 2019
Could these two end up being friendly with one another?
What's Next on General Hospital
"I'm getting everything I want." #GH55 pic.twitter.com/kSiXEOtyt6

— General Hospital (@GeneralHospital) March 18, 2019
Curtis will never stop freaking out about Jordan and her health problems. She's in need of a transplant — like right now — but there is very little he can do about that for her. She is a mess at this point in their lives, and that's all they can do for this situation. She has to find a way to get someone to make her live, and this dialysis is not working as well as they'd hoped. She is, thankfully, up and moving around, but there is nothing he can do at this point to help his new bride unless he can find someone with some body parts they are willing to give up for her. Unfortunately, we know how this goes. Someone is about to die so that she can have what she needs, and it will end up being someone they all care for. Probably her own husband or someone like that.
Meanwhile, Carly's concern for her father-in-law is growing by the moment. The fact that he just had this amazing outburst at lunch is worrying her. Then there is the fact that she's not sure where Sonny is or what is going on with Dante. She's got a lot of concern in her life at the moment, and we do think that there is a good chance that some things might not work out in their favor. We are not sure that there is much else that anyone can do about that, but we do think that she has too much worry in her own life to worry about other people like this.
Stay tuned for more General Hospital and be sure to check out TVOvermind daily for the latest General Hospital spoilers, news, and updates.