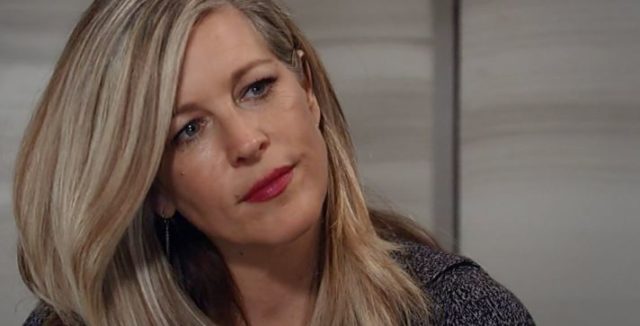 General Hospital fans want to know what's going on with Carly today. We know she's in a rough spot in life. She's seeing Morgan, her dead son, everywhere she goes these days. His belongings. Phone calls from him. He's haunting her. She knows it cannot possibly be real, but she also knows she has no real answer for all that's going on in her life at the moment. She's got to find a way to get this situation under control as quickly as possible, but she doesn't seem to be able to make that happen.
Instead, she's going to spend this day with an invitation in hand. But for what? We all know, of course, that the nurses ball is coming up in a few short weeks. But that's not the invitation we think she's going to receive in the mail. We think it's something she's going to get elsewhere and from someone else, and we have a feeling whatever it is might just be a big set up.
We might be over-enthusiastic about it, but we are willing to guess this is not the kind of invitation that she wants. It's not from someone she can trust, and it might turn into a big problem for her in the long run. We are only speculating, of course. She could be invited to a dinner date with a girlfriend she hasn't spent much time with lately, but we know things around Port Charles are a little darker than that.
Tell us what's wrong with this post? How could we improve it? :)
Let us improve this post!