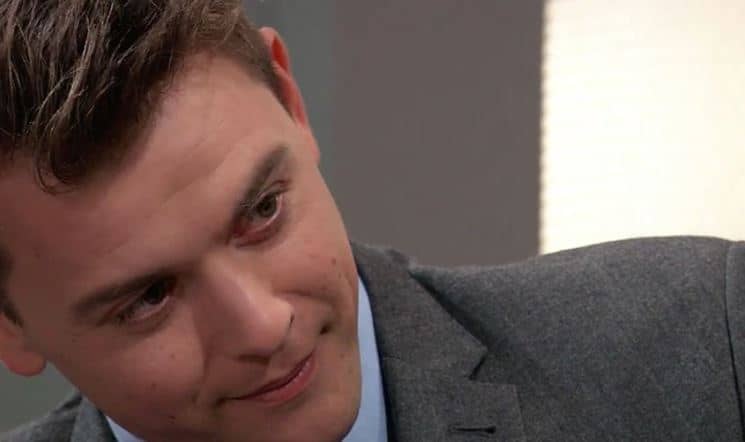 General Hospital fans know that Jordan is a very new newlywed. She's been married like, five minutes, and she's supposed to be on her honeymoon enjoying her new husband and living her best life. Instead, she's at home working on a case that all began when she found a dead body in her hotel room as she began her first night as a newlywed woman. That body belongs to Kiki Jerome, a young woman who is sleeping with her mother's ex, fighting over that man with her new sister, and not in a good place. Well, she's not in a good place now, for certain. She's dead, and no one knows what is going on with that. But for now, Jordan is obsessed, and not in a healthy manner. She's living and breathing this case, and she's not sure that there is anything else in the world of any importance as a result. She's in a bad place, and we wonder if Curtis can get her out of it?
Sam has something for her mother, and it's important. She's got to get it to her right away, too, or she will find that things in her own life get very awkward. She's not on her mother's side as far as her father is concerned, but they do get along really well otherwise. We think that Sam has a lot to learn about letting go of her issues with her dad when it comes to her mother, but we are not positive she can do that. For now, though, she's got something for her mother, and we know that she feels this will make a difference in the way things are. Will it, though? Will she be able to help her mother with this, or will she end up making things worse?
What's Happening on General Hospital
There's always time for a good laugh. @DonnellTurner @Bri_Nic_Henry#SocialExclusive #NewPhotos #GH55 pic.twitter.com/ldNeylgth1

— General Hospital (@GeneralHospital) December 6, 2018
We get it. We love it. It's what we want to see more of in this situation. We love seeing things like this, we love when they work out, and we love when they are just as good as they seem at first. Bring us some more, please.
What's Next on General Hospital
"I don't need to see a psychiatrist… but I think you do!" #GH55 pic.twitter.com/UvRj9IuqfU

— General Hospital (@GeneralHospital) December 3, 2018
Nothing is going to happen if people don't start getting things together, but Anna has some serious good feelings about Obrecht and her motherly instincts. We aren't completely sure we agree with her assessment and all that is going on in her life, but we do think that Anna knows a few things that we might not know. So, we will go with how she feels and what she's been up to before we start judging anyone and dealing with things that we cannot control. There's not much else we can say about that, but we can tell you that we hear the end of the week is going to bring Jason some interesting news. Interesting is strange word, though. We don't know if it's good or bad or anywhere in between. All we know is that there is a lot we don't really understand.
And for now, we can sit back and assume that Alexis is a little skeptical about the way things are going in her own life. She's not entirely certain that she can handle what everyone is saying about her and the way she is living, and that's not going to be much different than usual. She's also in a place where she cannot seem to get her mind made up about a few things, and we want to know if it has anything to do with the item that her daughter gave her. It could be, but it might not be anything that has to do with the way she's been feeling as she's been going through her days.
Stay tuned for more General Hospital and be sure to check out TVOvermind daily for the latest General Hospital spoilers, news, and updates.